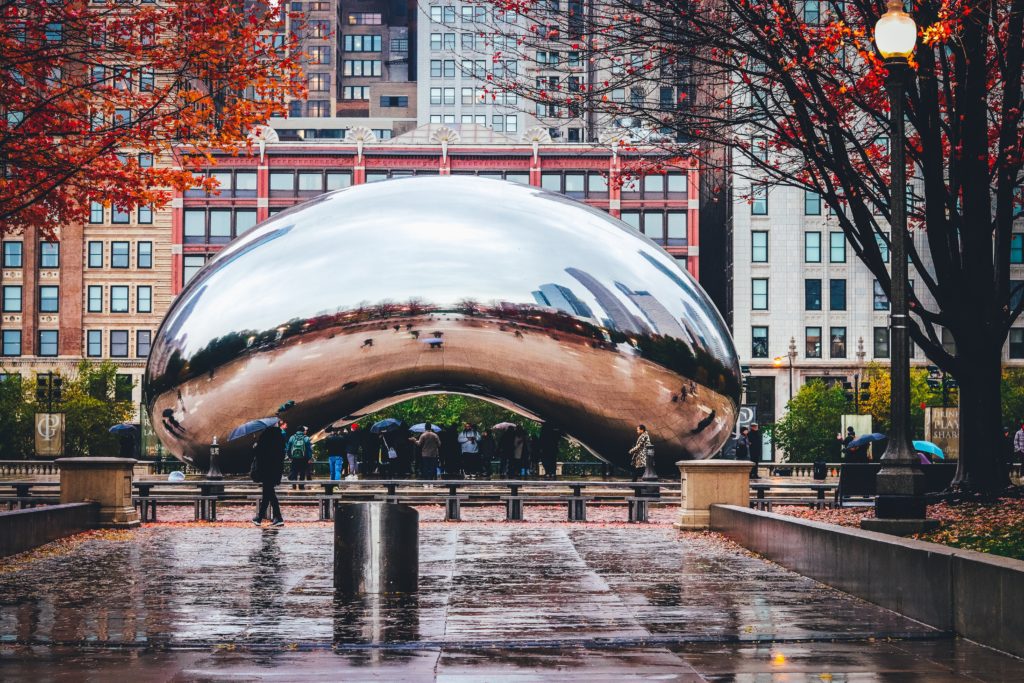 There is no need to introduce Chicago twice. At the mention of this American metropolis, a chain of images and associations arises in the minds associated with the merciless mafia and gangster squabbles, with skyscrapers soaring upward, with the luxury of theaters and cabarets. But modern Chicago is also a bizarre combination of all sorts of architectural styles, successfully integrated into the urban space, where ultra-modern business districts intertwine with old buildings, huge department stores and monumental skyscrapers rise against the backdrop of endless parks.
Chicago is the "great lake" Michigan and the fast-flowing Chicago River, the Willis Tower (which held the world height record for a quarter of a century!) And the observatory at the John Hancock Center, sculptures by Pablo Picasso and Joan Miró, Rockefeller Memorial Chapel and Bahai Temple in Wilmette, Museum Science and Industry, Field Museum of Natural History.
Prepare for the fact that there is not enough time for all the attractions, so it is better to prepare a plan of excursions in Chicago in advance. The museums in Chicago are seemingly invisible. There are serious museums designed for a thoughtful visit and a readiness to perceive new information, there are museums of an interactive and entertainment format where the whole family can go, there are art museums that store world masterpieces in their storerooms. There are also highly specialized centers, for example, the DuSable Museum of African American History or the National Museum of Art of Mexico, and there are also record-breaking attendance centers – the ultra-modern Adler Planetarium and the Shedd Aquarium. The five most popular museums in Chicago, recommended by almost all guidebooks, invariably include the Field Museum of Natural History, the Art Institute of Chicago, the Museum of Modern Art, the Museum of Science and Industry, and the Shedd Aquarium. Even if you don't have much free time, you should definitely visit at least one of the listed museums. You will be able to get an impression of the organization of museum work in the United States and, of course, collect many observations about Chicago itself, its culture and people. Parks in Chicago are well-groomed green areas, each of which is designed with ambitious plans to become the best, the largest, the most interesting, the very best. Chicago parks emphasize the natural and cultural characteristics of the city, making it more comfortable for its residents and attractive as a tourist metropolis. The largest public park in Chicago is Lincoln Park. It stretches for 11 km along Lake Michigan and accommodates seven well-groomed beaches, several sports fields, football and basketball fields, secluded corners and modern concert venues on its territory.
One of the "tricks" of Lincoln Park is a free zoo, familiar, perhaps, to all Chicago children and their parents. Millennium Park is almost a century and a half younger, but thanks to the creativity of local architects and sculptors, it is no less famous and visited. The park is full of amazing installations and sculptural compositions, the main of which is considered to be the mirrored "cloud gate" or simply "bob". Each year, new parks and recreation areas appear in Chicago, giving the city charm and creating a comfortable environment for citizens to live. Recently developed spaces include Maggie Daley Parks, 606 and North Island. Its grandiose skyscrapers with an observation deck as an indispensable attribute on some 115th floor have become a real symbol of the city. Skyscrapers on the waterfront, Willis Tower, Aqua Tower, Tribune Tower, Marina City, John Hancock Center … It is easy to become a virtual "collector" here and create a collection of photographs of Chicago skyscrapers. The city is also full of all kinds of monuments and monuments, bars with history and grandiose fountains. In a word, a tourist in Chicago definitely has something to do at his leisure!