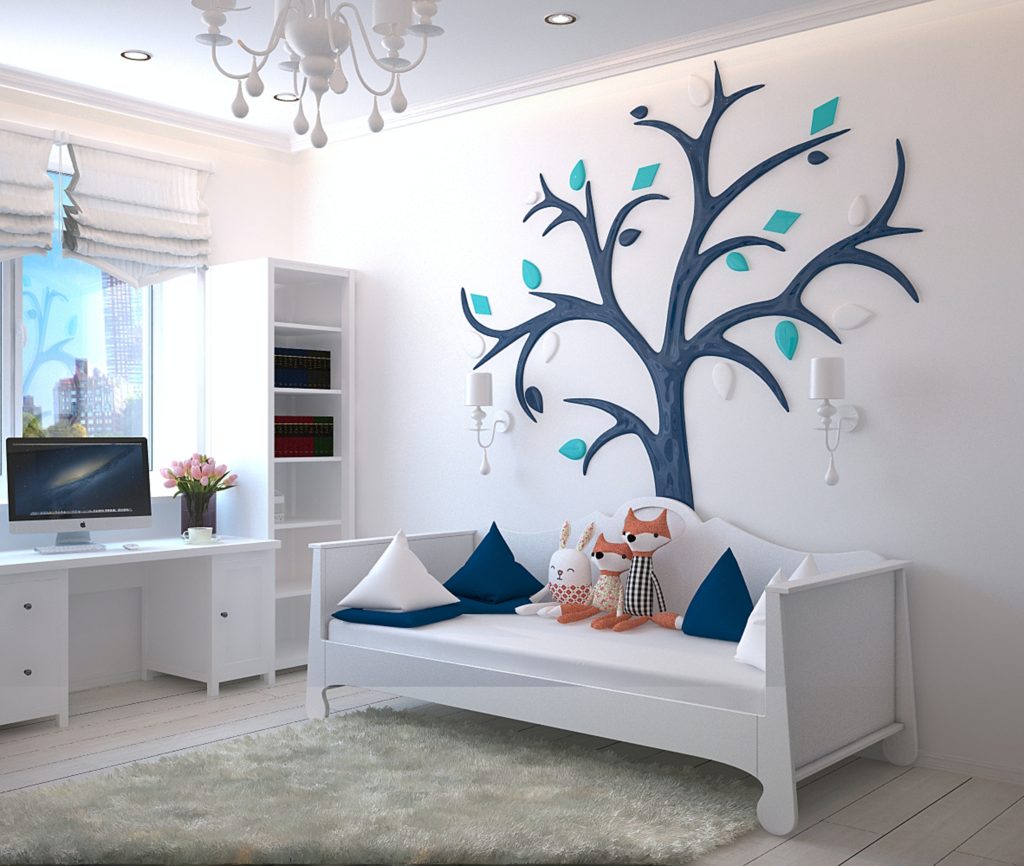 The children's room is a place where a new experience is born against the background of the past. Abstract shapes and vibrant hues combine with vintage furnishings, traditional ornaments and eye-catching textures.
Cultural code
Returning to cultural characteristics and traditions is a well-known trend and one of the main values ​​followed by modern designers and artists. In this sense, the furnishings of the children's room are an additional opportunity to show the connection between generations and customs that find visual manifestation in the interior and form respect and curiosity in the younger generation.
A designer shows that it is not at all difficult to combine different formats, plots and images when they complement each other in an advantageous way. A bedside table with an unusual shape will become a modern accent, while a soft carpet with ornaments tells a legend and recalls the history of which all of us are a part.
Concept
In order to create an attractive interior, it is important to come up with an idea. Hence the question: what feelings should the nursery awaken? Surely, in the children's bedroom you want to feel comfortable and safe; it should be interesting and calm here; and it is also important that the child feels free on his territory.
So, when planning the design of a children's room, it makes sense to seek help from a professional decorator so that bright colors and attributes do not overload the space, and the abundance of neutral shades does not devastate the room. Just look at the oriental-style nursery, where rethought traditional elements of decor, such as wicker lamps and a wooden horse, are harmoniously combined with the current red-yellow-green shades.
Unusual details
The appearance of a room can tell a lot about who lives in it. At the same time, filling the baby details can help unleash the creativity of the child and become the first contribution to the development of visual taste. To do this, it is important to experiment with different textures and colors, for example, choosing a bright blanket for a bed, a floor lamp of an unusual shape, a carpet with an abstract print, or even graphic paintings randomly hung on the wall.
Modern approach
Interestingly, a return to the origins and what was popular several generations ago is noticeable in everything that concerns children, be it fashion, toys or furniture in a children's bedroom.
So, it is easy to integrate vintage furniture, art objects and even fragile figurines into a nursery. The modern approach teaches not only to combine pieces of furniture with history and new forms and textures in one space, but also to look at the child as an independent person who appreciates the gifts of the past and learns to take responsibility for the future. A designer offers to look at furniture and interior items as friends, capable of supporting in any situation. As guides, delicately illuminating the path of development and maturation.
Develop imagination
A children's room is like a blank canvas waiting for a burst of creativity without thinking about the consequences. To inspire and impress your room's decor, you can arrange it in unusual places, or even get creative with a practical element like a table or rug in the room. Not a single item in the children's room should be here "just like that". After all, a children's room is a space where a child can freely interact with every attribute around, whether it is a toy passed from generation to generation, a bookcase with books or a soft carpet, from the pile of which you want to braid.