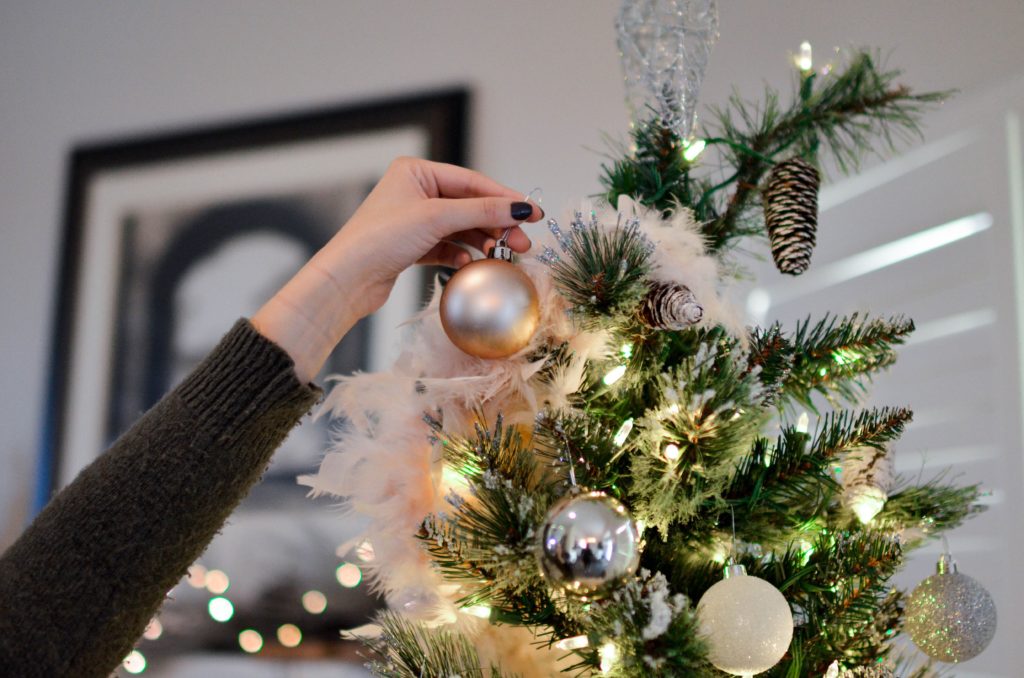 Have you ever wondered how much plastic decor we use to decorate the Christmas tree and the monastery in general? Artificial spruce, plastic toys (because in stores they are more often presented from this material in various colors), garlands and wall decor. All this is made of plastic and it is not good.
I thought about celebrating Christmas more conscious, at least a little, and decided to start with the Christmas decor. Ideally, if there is an opportunity to exchange your artificial spruce for a live one, only in a pot. The natural pine scent will fill the entire space in the house, and it will create a real magic of Christmas. Plus, it can always be planted into the ground and proudly say that you have contributed to the good of the planet. But if you had no plans to change your spruce, but you want to bring a little environmental friendliness to Christmas mood, then we have prepared for you a selection of conscious and zero waste decoration ideas that will not require much time and effort, but will look incredibly festive.
Orange grapefruit garland
My favorite this year is the garland of dried grapefruit and orange wedges. By themselves, they look pretty, and if you string them on a string, alternating colors, you get a real winter decor. You can also play around each dried circle and make an independent Christmas tree toy out of it. Add one large wooden bead and the rustic decoration in your hands.
How to do:
Take two grapefruits and two oranges and cut them into slices.
Scrub each circle with a dry cloth to remove excess moisture (this will dry the slices faster).
Place the future decoration in an oven or a dehydrator and leave for 6-8 hours at a temperature of 100 degrees (I put it in a dehydrator overnight, periodically changing trays).
Pierce the finished circles with a toothpick or skewer and create your own Christmas decor.
Christmas toys made of soda and starch
Our grandmothers long ago learned how to create sustainable decor using salted dough and knew how to decorate the tree environmentally. But the process took a long time, so there was a new way to create conscious decor – a mixture of baking soda and starch. These two ingredients make a solid base for different shapes. Plus, they don't need to be baked, unlike salted dough, and the toys get a snow-white color, as if they were molded from snow.
How to do:
Take 2 cups of baking soda, 1 cup of cornstarch, and a cup and a half of cool water and mix together in a bowl. You can add a couple of drops of your favorite essential oil if you like.
Place all ingredients in a saucepan and simmer over medium heat, stirring constantly. After 10 minutes, the mixture will thicken. It is necessary that the consistency is like mashed potatoes.
Transfer everything to a bowl and cover with a cloth. Let cool.
After the dough has cooled, knead it by hand until smooth. After that, roll it on the table to the desired thickness.
If you want to add texture to the ornaments, then you can emboss it with a stamp. Personally, I really like the look of the knitted jumper. If you don't have a stamp or want a more natural look, then you can use a Christmas tree branch or a regular fork.
Shape the decorations with cookie cutters, and don't forget to make a hole in the middle for the thread.
Depending on the thickness, the jewelry will take 24-48 hours to dry naturally completely. Hang them on jute rope for the perfect eco-friendly look.
Winter bouquet
If you love fresh flowers in the house, then you probably know that in winter this is a little more difficult. But there is a way out: collect a winter bouquet, which will include several branches of spruce (so that they are fragrant), hang cones collected in a nearby park and the same orange circles on them. For atmosphere, place this bouquet in an old metal garden watering can. Your inner esthete will be pleased!
Christmas toys with pieces of wood
How to decorate a Christmas tree to be natural and beautiful? We advise you to make toys with your own hands with natural materials – twigs. Collect small pieces of wood in the park, the main thing is that they are more or less the same in thickness. Then, using a hot glue gun, connect all the branches into shapes, for example, a star or a snowflake. Tie a jute rope on top. That's all: the eco-friendly Christmas tree toy is ready.
I have tried all the options and I must note that such a Christmas decor lifts the mood and energizes the spirit of Christmas much better. Try it too!