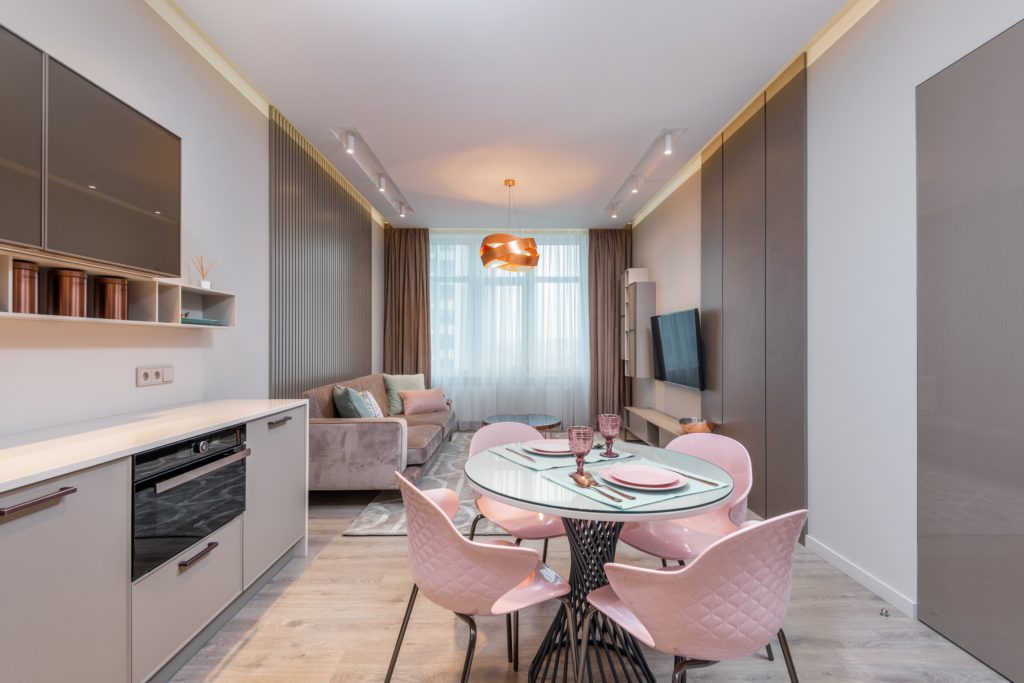 We tell you what accessories, furniture and decoration of the apartment will be especially fashionable next year
The pandemic has changed the approach to home improvement – we have begun to spend at home much more time than before. The first place was taken by functionality, comfort and environmental friendliness.
Experts spoke about the main trends in apartment design that will be relevant in 2022.
Retro, hippie and kinfolk
Apartment interior design trends have undergone significant changes over the past couple of years. Although classic style, art deco, modern, Provence, minimalism, Mediterranean and country are moving with us in 2022, they are "combed" by designers in accordance with modern trends,
The kinfolk is gaining great popularity – a style that combines modern functionality and technology with natural materials and vintage items. It is rather a way of life than a style dictated by global changes in the world. It would be appropriate here to put an old grandmother's chest of drawers or a writing desk from your father's library in a room with a modern renovation – these items will become a highlight of your interior and revive warm moods in your soul.
Now is the best time to conquer flea markets, auctions and dismantle dusty attics, as the whole world has become more attentive to environmental issues and lean manufacturing.
The hippie retro style is gaining popularity. The forgotten romance of the 1970s is back in trend, and it is perfect for those who are tired of minimalism, said interior designer. She explained that creating a hippie-style interior requires bright colors, the use of objects of unusual shapes, as well as decor with an Indian flavor. "If you can describe the hippie interior design-2022 in one word, then it can be called 'crazy.' Feel free to mix textiles with wild ornamental prints with futuristic furniture, "the designer advises.
Fringe, ombre and color schemes
Interior design 2022 assumes unusual color schemes. Smooth color transitions are relevant. Regular wall painting can give great results if done using a gradient technique or ombre technique, designer said. The designer noted that coatings with the effect of a pattern resembling a gasoline film on the surface of water will also look unusual.
"Painted walls will still be popular in decoration, if you get tired of the color, you can always change it. It is worth using decorative plaster of calm textures to emphasize a wall or highlight a specific area. In the bedroom and in the children's room, you want comfort and warmth, there are wallpapers of natural shades and motives – leaves, trees and animals. In addition, wood floors are in trend. It can be either new parquet or restored old one. Large-format natural stone or porcelain stoneware is now used not only in bathrooms, but often in living rooms, dining rooms and even in the bedroom. There are fewer fabrics in the interior, only natural ones remain – cotton, linen, silk, "she said.
Yellow is also trending. "It used to cause a lot of concern and controversy, but recently its popularity has grown. I suggest using the following shades: butter, daffodil, straw, dusty ocher and yellow-orange mango sorbet. In addition, you should take a closer look at the natural cold colors: quartz, malachite, sapphire, deep blue and graphite gray ", – a designer recommends.
The trend towards naturalness is maintained, since by nature, each of us gravitates towards natural shades of foliage, water and blue sky, a designer clarified.
According to her, the top colors in 2022 will be green, black, blue, as well as all combinations of gray with various other colors. It is worth using more warm colors – it gives the feeling of sunlight in the interior. All shades of green remain – light green, emerald, bottle – as if you are walking in a summer forest. Many of the red shades are popular too – orange, pink, terracotta.
The trend in 2022 will be furniture items that look as if they were made in a village carpentry workshop. Moreover, all the flaws of the tree are recommended to be displayed.