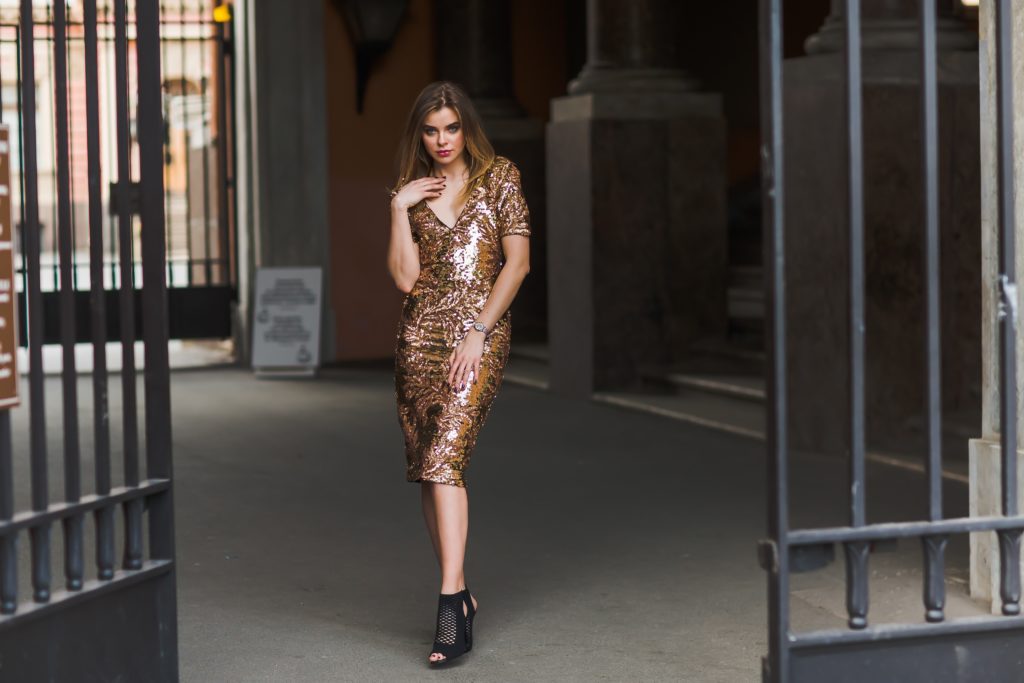 In recent years, minimalism has taken root in all areas of our life. Well, the years of quarantine, when one pair of jeans and a sweatshirt was enough for us, further strengthened this trend. We actively crossed out everything that was "too much" from our wardrobe, and got used to being content with the base. But the motto "less is more" gradually began to lose ground, and we rushed from one extreme to another.
After analyzing the latest collections, one can come to the conclusion that 2022 will be a period of glitz, chic and luxury. The craving for pomp and drama will peak, and more and more evening wardrobe items will make their way into everyday life. Crystal-studded dresses, translucent fabrics, sequins, stockings, exquisite long gloves and theatrical feathers – in a word, the trend for "new dressiness" will manifest itself in all its glory this year.
Designers clearly continue to feel nostalgic for bygone eras – among the fashion trends of 2022, you can notice elements of several decades at once. So, for example, next year the incredible mini-skirts of the 80s, neon colors of the 90s and the low rise of the 00s will be at the peak of popularity.
As for the structures, here we are also ready for anything, just not to go unnoticed. Lovers of the "bad girl" look can enjoy the fashion for deliberately rough skin and buy themselves a daring leather jacket. Well, those who are drawn to a certain theatricality can pay attention to shiny fabrics with a metallic sheen – these are now on the list of top favorites.
As we have already said, this year is declared the season of maximum nudity. Instead of tops, we now wear our favorite bras, skirts jump higher and higher, and fabrics (even the mega-popular knitwear now) become so transparent that their "hide" function no longer works. And this is not to mention the abundance of all kinds of cuts and cuts that cover absolutely all wardrobe items. However, this was done not in order to undress corny, but to demonstrate the beauty and aesthetics of the female body, to show that this is not something that should be shamefully hidden under clothes.
Also, 2022 will be a real flight of fantasy – the designers clearly tried to outmaneuver each other in the struggle for the most non-trivial outfits. So, the fringe is becoming more and more dramatic, bracelets on the shoulder are returning from the 2000s, and ski suits, ethnic motifs and dresses with a keffiyeh hood are introduced into the everyday wardrobe, like those of the inhabitants of the desert. In addition, you can easily dress up in the style of your favorite pop artist or throw a techno party – next year we will mix all sorts of fashionable eras of the past.
Don't worry, though: the glitz, chic and eccentric frenzy still leaves room for the comfort we're so used to. For example, tracksuits not only did not leave the fashion pedestal, but also adapted to all occasions so that you could not get out of them. Also, the ubiquitous knitwear does not lose its relevance (although it is becoming thinner and more transparent). There will also be such familiar elements as crochet, oversized, plaid and linear prints, pleated skirts in the "back to school" style and pastel colors.
In general, the main trend remains unchanged – we continue to strive for individualism, and not blindly following trends. So, whether you choose a favorite and cozy sweater or a dress sparkling with sequins, the main thing is that this choice reflects who you are and how you feel at this moment.