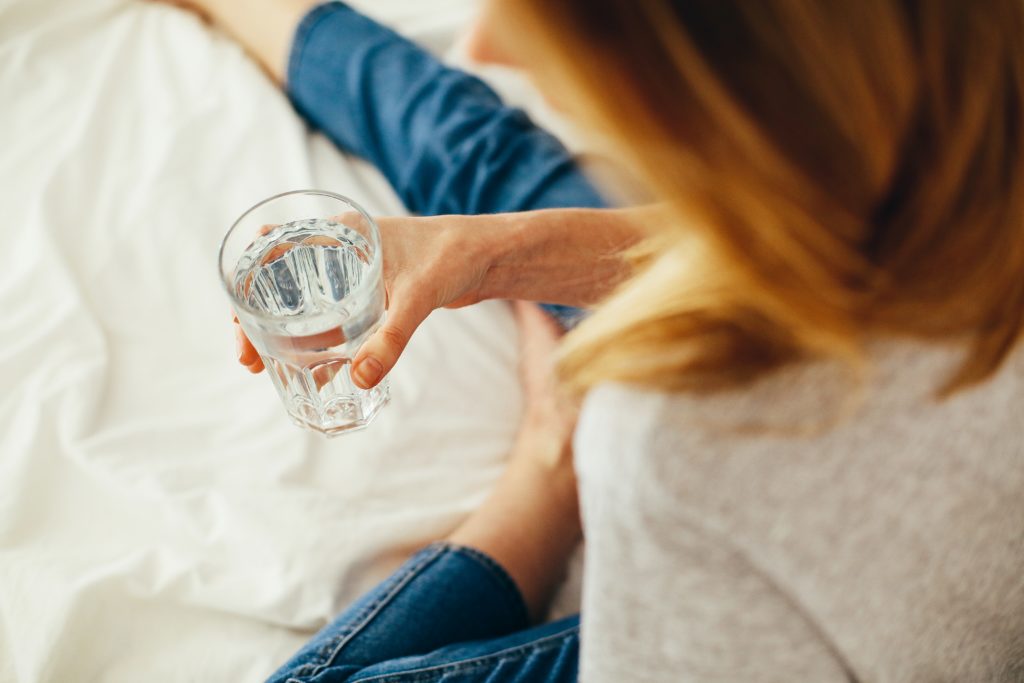 To maintain health and physical well-being, the human body needs water. And although everyone has known about this for a long time, a sufficient amount of water is still rarely drunk. Celebrity nutritionist Kimberly Snyder shared tips on how to drink water properly.
"Everything in your body depends on optimal hydration, from organs to hormones," explains Los Angeles nutritionist Kimberly Snyder. "When you drink enough, your joints are lubricated, your skin absorbs essential nutrients, and your hair follicles grow healthy." And if not?
Not only does the skin lose its natural shine, and the hair becomes brittle, but the detoxification processes are slowed down, and digestion functions worse; weakness appears throughout the body, and intellectual activity is more difficult. "You will feel heavy and energy will be constantly lacking." Here are some tips from Snyder, thanks to which the nutritionist manages to monitor the water balance of his celebrity clients – Reese Witherspoon, Drew Barrymore, Kerry Washington.
Own norm
Eight glasses of water have long been an established norm that everyone should drink every day. But Snyder argues that this very norm depends on the constitution of the body, the level of physical activity of a person, as well as weather conditions (after all, the more we sweat, the more water we lose). According to statistics, women should drink 1.7 liters of water daily, and men – 3.7 liters. But if you want a more accurate formula: "Drink at least 0.3 ml of water per 1 kg of body weight daily," says Snyder. "So, for example, with a weight of 63 kg, you need to drink two to four liters of water daily." That is about 17 glasses.
Room temperature
"I always tell my clients about the importance of drinking water at room temperature," says Snyder, stressing that such water is more beneficial than cold water, because in this case the body has to spend energy, which leads to the loss of fluid in the body. What's more, cold water can constrict the blood vessels in the stomach, which interferes with the digestion process and slows down the absorption of fluids.
A glass of water in the morning on an empty stomach
A glass of water in the morning is the key to staying hydrated throughout the day. The nutritionist explains that during the night the human body becomes dehydrated, therefore, drinking warm water in the morning, the body receives the necessary energy, which is enough for the whole day. If you want to take it to the next level, then start your day with a glass of hot lemon water. "This water is rich in vitamin C and helps to detoxify the body," adds Snyder.
Between meals, not during
In the United States, we are accustomed to having a large glass of water next to a plate of food, although this is far from the best scenario, be it breakfast, lunch or dinner. "The abundance of fluids during meals dilutes the digestive juices and can cause fluid retention in the body," says the nutritionist. Instead, drink between meals throughout the day, half an hour before meals and one hour after. To stick to your individual schedule, keep track of the color of your urine (the lighter the better, Snyder says), or use dedicated mobile apps that can track the amount of water you drink and set up reminders.
Eat foods high in water
"Water is by far the main and most important resource for maintaining water balance, but there are vegetables to eat to stay hydrated," continues Snyder. Her number one vegetable for such occasions is cucumber, which is rich in enzyme-filled water, B vitamins, nutrients, electrolytes and silica. The second place is occupied by celery, which contains vitamins, minerals and fiber, which give a feeling of freshness and give the skin a healthy glow.
Kimberly Snyder recommends adding both vegetables to your special green smoothie and drinking them first thing in the morning on an empty stomach. Thus, the body receives a maximum of nutrients.
Compensate for caffeine and alcohol
Caffeine and alcohol are both strong diuretics, meaning that when you drink one of these drinks, the diuretic process is triggered and the body loses a lot of water. To avoid dehydration, you must compensate for the "damage" with additional water. "If you drank a glass of coffee or alcohol, then you need to drink a glass of water to restore the body to the necessary water balance," says Snyder.
Always carry a water bottle with you
When it comes to stable drinking, there is nothing like a reusable water bottle. "It helps you remember to drink when you're busy all the time or when you're moving from place to place," advises the nutritionist. Or start your day with a large glass of water, then fill a container (or several) with your daily requirement of water and watch how you drink it throughout the day. "I am in favor of visual and physical cues, like a bottle of water that reminds you to drink when you see it."
Drink coconut water
"For centuries, people from Southeast Asia and the Pacific have drunk the water of young coconuts to stay hydrated," explains Snyder. "It is one of the best foods to replace water and electrolytes that the body loses in hot climates." So after a long day in the sun (or in the morning, after a long night on your feet), try rehydrating with a product that is actively used on the islands.