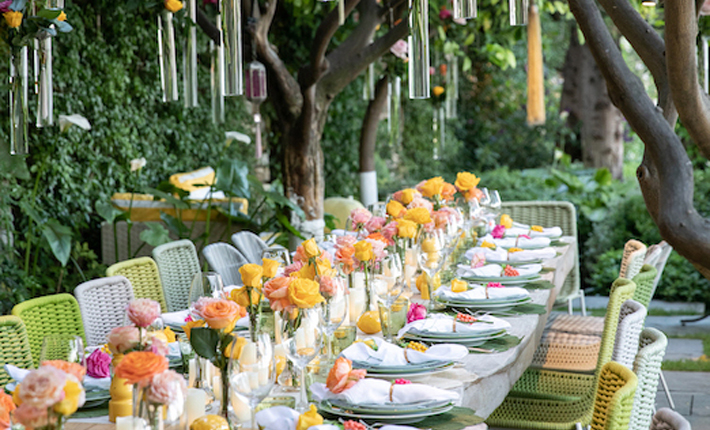 Organizing a fabulous party is beyond the scope of this site's article, as the
key to a good party is often a combination of careful planning and
uncontrollable luck: good weather, good mood, and good interaction between all the participants. This article will make it easier for you to make things work out well.
Choose a time, date and place. Start planning your event at least three
months in advance so you have enough time to build your guest list and send out invitations. Notify guests of the date of the event six weeks before the party. Send formal invitations (by post or email) at least two weeks in
advance. This gives your guests plenty of time to get ready for the main party of the year. Consider the following: it is important to choose a date for which nothing else is scheduled. If there is a big event on the day you like, or if your friends always meet for a glass of wine on Wednesdays, do not party on that day. You want people to come, don't you? Before approving a date, make sure that there are no sports, city, church or other important events on that day. Don't party in the city center at 6pm if there is a major sporting event in town at 7pm. Consider the traffic conditions, the time your guests need to travel, parking and other factors that can reduce the potential number of guests. Does the date or time intersect with something else? Will there be enough parking spaces near the party venue and will they be free? Will it take guests too long to get to the place? It is not necessary to hold the event late at night. Consider brunch. Everyone will happily eat pancakes and cocktails at weekend lunch.
The easiest way is to have a party at home, although you can choose another place (cafe, bar, restaurant). You can also rent premises (club, park site, historic site, sports facility, spa, etc.). Make a guest list. Usually 20-25% of the invitees come. The more guests, the more fun. However, a large party needs more space, so consider which room is right for you and how many people you will need to feed. If you want 200 people to come to you, send out 800 invitations in advance. Remember that people are always late and sometimes they don't show up at all. If guests come with friends, things can quickly get out of hand. Indicate in the invitation if guests can bring someone else.
Choose a topic. Skip the 80s-style party or school party because everyone is
already bored with these topics. How about a specific cartoon? Or a topic
related to your favorite TV show or movie? You can tie a party theme to a
location, a specific food (for example, make huge sandwiches like in
cartoons), a concept, or a season. The theme can be as simple as color. This
will make it easier for you to decorate the room and pick up food and drinks.
Ask your guests to dress in this color and set up a costume contest! You can
throw a party for any occasion – for example, organize a wine or beer tasting.
Why not: arrange a navy-style macaroni tasting! A holiday, a historical event (for example, the launch of the first artificial satellite), a murder mystery game, or even superheroes can be the reason for the event. If you choose superheroes, imagine that everyone walks into the room wearing costumes to match their musical theme. Tell us about the party. Nobody needs paper letters anymore, so notify everyone about the party on social networks or messengers. Then write to your friends (about how they can help you, see below) and send out reminders a couple of days before the event, especially if you ask guests to come with their food or drinks. And don't forget to tell the people you interact with about the party! Everyone should look forward to this day! Would you like people to confirm their participation, bring food or drink?
Mention it on social networks, in private messages and in conversations,
otherwise 50 people will come to you empty-handed on the day of the event.
You are unlikely to like this. Set aside a party budget if needed. Organizing a party can cost a lot of money. You will need to buy food, drinks and decorate the premises. If you plan to take on the costs yourself, make a budget. Set aside a certain amount of money for food, drinks, and more. If you don't have enough money for something, exclude it from the list of necessary items. You won't have fun at the party if you spend all your money. For this reason, you can put together an event, decorate the room yourself, or ask people to contribute any amount. If guests have their own responsibilities, you don't have to think about everything. In addition, this way people will definitely come (and on time), and you will not have problems with money. If you're on a budget, don't think that you won't be able to throw a party. Just ask everyone to participate financially. Start preparing six months before the event if you want to receive cash donations or any items, and two months if the event will be jointly held (everyone will need to plan their expenses, keep this in mind).