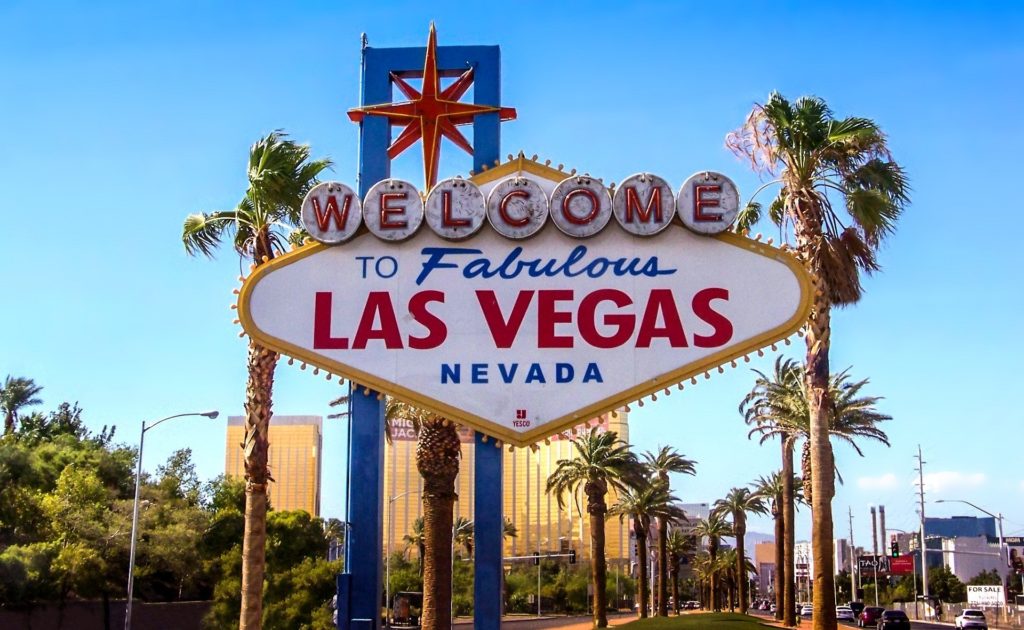 Dancing fountains "Bellagio"
The "visiting card" of the city of sin and vice looks incredibly sweet and solemn – it is the jets of water soaring into the air to the music, pouring icy splashes on the gazing tourists. Of course, we are talking about the dancing fountain show in front of the Bellagio Hotel.
Caesars Palace
White marble, slender columns and a 6-meter statue of Julius Caesar at the entrance – the grandiose entertainment complex in classic style has become one of the most luxurious and popular hotels in Las Vegas. There are almost 4,000 rooms in 6 towers named after Roman emperors.
MGM Grand
More than 5,000 rooms, restaurants, trendy shops, a lush southern garden with swimming pools, fountains and waterfalls – it is no accident that MGM Grand is called a city within a city or Las Vegas in miniature. The shining world of luxury and comfort has it all.
Paris Las Vegas
The Eiffel Tower steps over the Louvre, and the Grand Opera is adjacent to the Arc de Triomphe – such an incredible combination can be seen only in Las Vegas. Despite its reputation as a city of sins, there is room for Parisian charm.
Bellagio Casino
The classic of Las Vegas and its calling card is the five-star Bellagio hotel-casino. These are 36 floors of luxury and chic, villas with pools, restaurants and cafes, a spa center and golf courses, a greenhouse and a botanical garden – in a word, entertainment for all tastes.
High Roller Ferris Wheel
High Roller is still the tallest Ferris wheel in the world, although this honorable status jumps from attraction to attraction several times a year. Las Vegas, as always, is in favor, but Dubai and China are already on the heels, so we must hurry – while these 168 m can be called the best.
Natural History Museum in Las Vegas
Away from the bustling Strip with its huge casinos, there is an unusual attraction for Las Vegas – the Museum of Natural History. It grew out of a small collection of fossils and within a few years became a major cultural and educational center.
Organized Crime Museum
At the National Museum of Organized Crime and Law Enforcement, the criminal past and present of Las Vegas is literally collected bit by bit. The creators of the collection had been preparing for its opening for 5 years, some items were donated by persons who wished to remain anonymous.
Oceanarium "Shark Reef"
It is actually very easy to get tired of "one-armed bandits", elegantly dressed divas-croupiers and green cloth on the gambling table, even if you have come to the "city of sin" for just a couple of days. But do not despair: it is simply impossible to get bored in Vegas – circus and cabarets, strip bars and real sharks.
Adventuredome amusement park
Under the fantastic dome of pink glass, a whole world of adventure is roaring and sparkling – the Adventuredome Indoor Park. It is located on the grounds of the Circus Circus Hotel and is an ideal place for families.
Dig This! Theme Park!
A very large sandbox for adults, the dirtiest entertainment in vicious Vegas and far from a children's amusement park – all this can be safely said about the theme park Dig This! And there is no need to make round eyes: there is no vulgarity here, but only very large, very powerful cars.