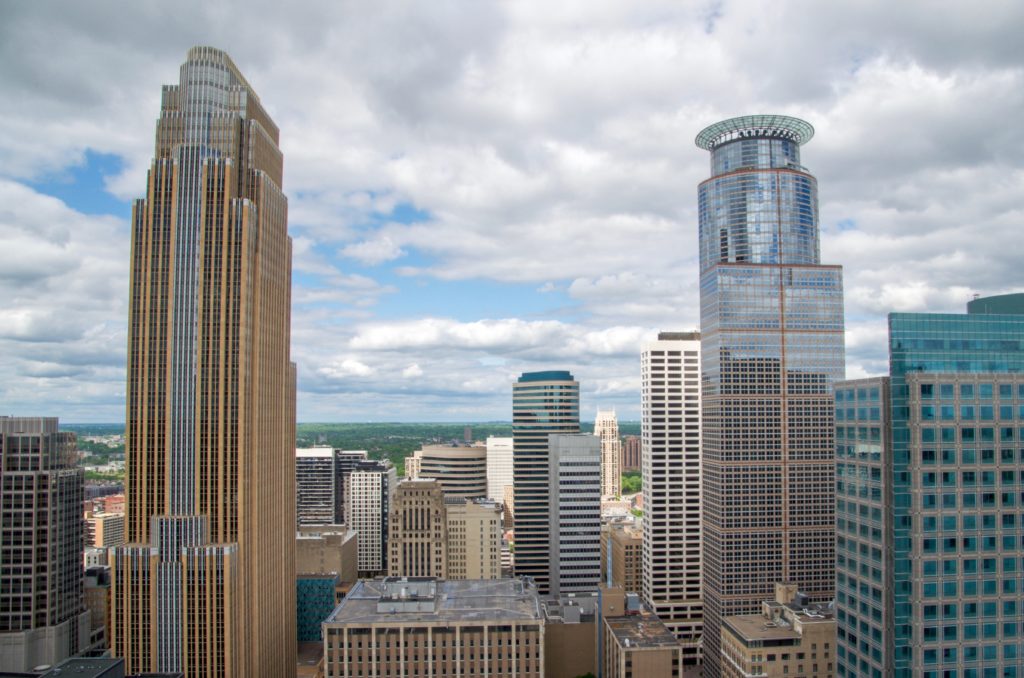 A typical modern metropolis with a well-developed industry and business infrastructure. At every step you can find slender towers of skyscrapers, beautiful glass buildings and just huge shopping malls.
The city has become very popular with tourists due to the wide range of entertainment, among which the most common were boat trips on the Mississippi and visiting local attractions. Minneapolis is often called a park city, and one of the world's most famous park systems was founded on its territory. 24 artificial lakes have been created throughout the city, and the spaces between them are filled with rich greenery. The lakes have been improved and equipped, today they serve as training grounds and venues for sports competitions.
Minneapolis will be a real godsend for connoisseurs of theatrical art, it ranks second after New York in terms of the number of theaters. The Institute of Arts is considered the largest exhibition center; its halls display more than 100 thousand exhibits of a wide variety of subjects. There are both historical and archaeological artifacts, as well as zoological collections and many other interesting exhibits. There are also many interesting programs for sports lovers. Golf is considered the most popular sport, so many clubs are dedicated to it, new courses open every year. There are also several world famous stadiums that host American football and baseball competitions.
Among the cultural institutions, it is worth highlighting the Minnesota State Science Museum, which was opened in 1907 and now occupies a beautiful modern building. This museum is very popular with tourists with children; it conducts excursions for children of different ages. Many of the exhibits are interactive; during the excursion, visitors will have the opportunity to conduct interesting experiments. Another interesting feature of the cultural center is the spacious, bright atrium, which offers panoramic views of the Mississippi River.
The most unusual in the city is the Washburn-Crosby Mill Museum. It was equipped in a preserved building of an old mill, which has undergone a complete restoration. Now visitors are told about all the features of the mill, as well as what types of work were performed on it before. This museum is also perfect for a family visit.
Fans of contemporary art will be interested in the Northrup King Building exhibition complex, which hosts events of a wide variety of topics. Visitors can witness events dedicated to contemporary art, photography and literature. In addition to exhibitions, the center often hosts various master classes.
Minneapolis is sure to impress book lovers, one of the main features of the city is the abundance of bookstores and second-hand bookstores. In the latter, you can find rare editions of old books that will interest even collectors. In addition to classic and modern literature, bookstores sell interesting travel guides, maps, and original souvenirs.
The city has a huge selection of beautiful places for walking and outdoor recreation; each park and garden has its own interesting features. In the Eloise Butler Wildflower garden, you can admire not only flowers and exotic plants, but also beautiful sculptures. It is most interesting to walk in the garden in the warm season, when it is decorated with unusual landscape compositions.
A walk in Boom Island Park can turn into an exciting excursion, this park is very popular with local fishermen. There are really excellent conditions for fishing here, and tourists are attracted here by the natural beauty and the ancient Pillsbury Mill, which for decades remained the largest mill in the world.
Minneapolis is a beautiful modern city that attracts tourists with cultural attractions and an abundance of entertainment centers. Among the cultural sites of interest is the Guthrie Theater, which got its name in honor of its founder, a famous director. The history of the theater is very interesting; its opening took place in 1963. In 2006, the theater moved to a new, modern building; it is known to fans of theatrical art from various countries.
The Walker Art Center is also an outstanding cultural institution. In a beautiful modern building of unusual architectural form, works of art by contemporary masters are presented. The center often hosts exhibitions where young artists, photographers and sculptors showcase their work. Visitors to the center can not only enjoy the splendor of the works of art, but also purchase the specimens they like.