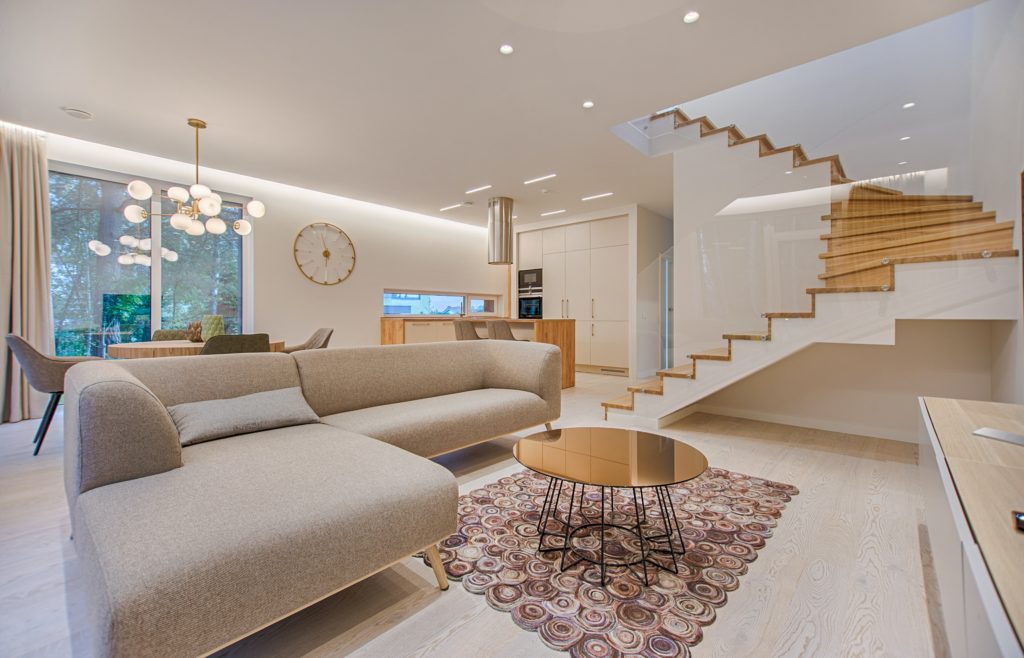 Sustainable and rustic design
An increasing number of people are trying to change their behavior as consumers in order to turn towards a sustainable society. Their decisions, including when choosing furniture, are assessed in terms of climate neutrality. The history of a product – how, from what, where and by whom it was produced – is becoming more and more important. The design should be of high quality, attractive and green. Natural materials are used not only for comfort, but also for environmental reasons. There is a growing interest in recyclable and recyclable materials.
Plants, home greenhouses, raw fabrics become important elements of the interior. They are complemented by rattan, willow or bamboo braids, which bring the feeling of a winter garden to the house. This 2020/2021 trend sustains interest in Scandinavian style, natural, rustic lifestyles and traditionally simple design.
Closer to nature
We want to be closer to nature more and more. New apartments are not built without balconies, and housing with access to a garden or patio is in great demand, especially in the city. These touchpoints with nature become an integral part of our homes, and patios act as a second living room. Outdoor furniture now not only looks like it has moved into the garden from the living room, but is also used at home – all thanks to increased comfort, elegant materials and high-tech textiles.
The trendy gray color for outdoor furniture is losing ground – now designers are betting on white outdoor furniture. Plants act as accessories, and not only in pots, but also on the wallpaper. Green is trending – it can be found in all shades.
Smart design
Intelligent applications are becoming more versatile, reliable and easy to use, they can more accurately adapt to the specific needs of people. As a result, smart technologies are increasingly playing a key role in architecture, becoming a part of our lives: for example, optimizing indoor air quality or regulating temperature without wasting energy. The same thing happens in the field of product and interior design. Lights serve as speakers, bedside tables are equipped with wireless charging stations for mobile phones, sofas remember individual preferences, beds are gently nudged into a different sleeping position when we snore. Technology is becoming an integral, inconspicuous piece of furniture and a leading trend in 2021.
Less is more
Higher rents and smaller homes will continue to drive demand for space-saving furniture. The first wave of the trend preaching accuracy and asceticism has already reached Europe from the USA and Asia. There are popular tidying strategies, avoiding overconsumption and limiting ourselves to vital things. More and more people find this approach useful and it is simply considered fashionable. "Less is more" can become an ideal philosophy for many, especially since it corresponds to the desire for a natural life. Particularly in demand will be available prefabricated furniture and compact individual elements that can be adapted to different room sizes, customized for yourself. Living "on the second level" is in trend: from bunk beds, typical for children's rooms, we are moving on to two-level spaces with mezzanines and a sleeping area on the mezzanine.
Comfortable furniture
Comfort is paramount in every home (regardless of its size), especially in the bedroom. However, investments are also made in bathroom furnishings and seating furniture. Compact, visually appealing soft furnishings such as double sofas or armchairs are a trend in the upper product segment. Here, special attention is paid to ergonomics. Console tables, folding tables or small shelves provide a sense of order in everyday life and become an integral part of the interior.
Comfortable hammocks, in which it is pleasant to relax, move from garden to house. Stools and benches are equipped with soft upholstery to add comfort to the kitchen and dining area. The sofas are adjustable and also stand on a platform that raises the cushions to a higher level. They are complemented by built-in tables. Comfort also encompasses construction service standards – heated car seats, heated or refrigerated spaces are among the key concepts.