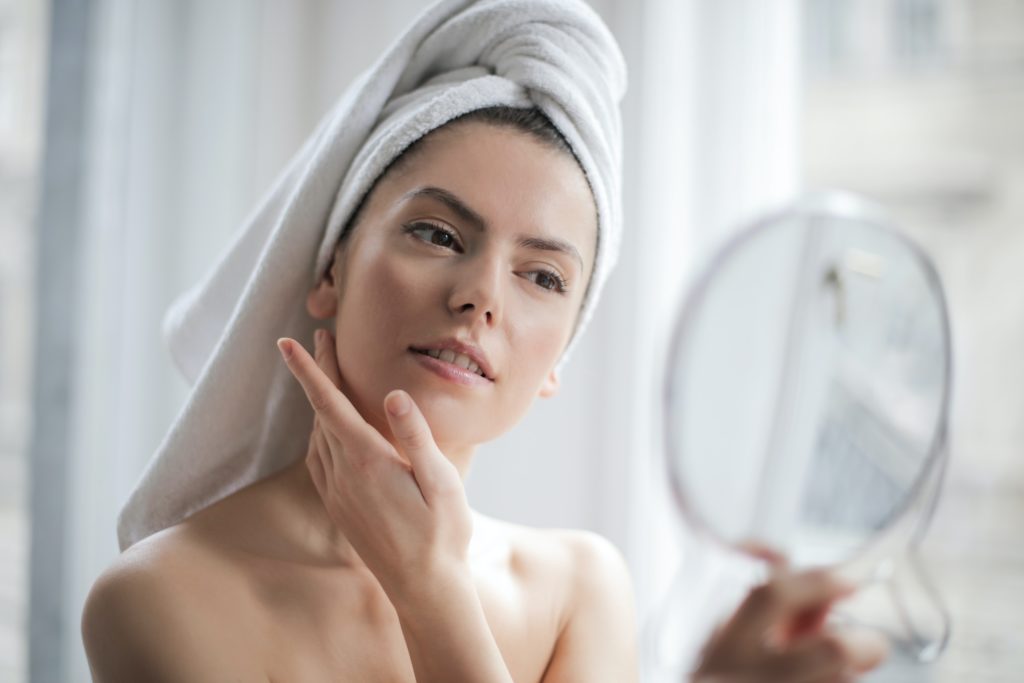 Devices
1. "Gadgets (massage, LED, etc.) can be a reliable help in the anti-age routine and replace injections. If you start using them for prevention, then in the long run they will give a very good result. We have a chance that in 5-10 years our patients will look fit, without injections!
It is clear that gadgets with the use of cosmetics – an unrealistic combination! Of course, this is a kind of home care upgrade. That's why he will always be in the first place. If they are serums, they should be accompanied by iontophoresis (a gadget that will improve their conductivity).
If it is LED, it is good to use cosmetics with vitamin C. For microcurrents, I would recommend choosing gel textures of cosmetics so that they retain moisture for a long time and do not have to use the gel for ultrasound therapy.
What's more, skin care gadgets can replace salon treatments. Physiotherapy has such a feature that the frequency of their use is more important than the intensity. Come for microcurrent therapy procedures once a week, and even if it's strong microcurrents, it will be worse than making microcurrents at home twice a day with a gadget, "says the founder of the online gadget boutique.
Lip skin care
"Unlike the skin of the body, the delicate skin of the lips (except for the skin in the corners of the mouth) does not have sebaceous glands and melanin. Therefore, the lips are deprived of natural protection, unable to provide themselves with nourishment and hydration, and therefore more susceptible to environmental influences – in particular, the aggressive effects of ultraviolet light, frost and wind. Therefore, if you regularly suffer from dryness, painful cracks and peeling on the lips, avoid the use of balms and lipsticks with paraffin, Vaseline, mineral oils, silicones, menthol, phenol, camphor extract. All these ingredients contribute to even more dry lips and lead to the fact that you use lip balm more often.
Antioxidants
"Products with antioxidants on the dressing table – a basic principle in the care of every skin type. The main merit of antioxidants is their superpower to prevent or reduce oxidative processes, restore cells and reduce the degree of dehydration. And although our body itself produces antioxidants, but they are, unfortunately, not enough: due to environmental degradation, poor quality food, crazy rhythm of life, aggression of the sun, stress, smoking, they are destroyed.
That is why it is so important to add serums, creams and masks with vitamin C to daily care every day. These products are best combined with SPF protection, enhancing the effect.
Top most powerful antioxidants:
vitamin C;
sea ​​buckthorn;
green tea;
rosemary;
red grapes.
And don't forget that the easiest way to saturate the body with antioxidants is nutrition, so we help the body inside and out, "says the beauty expert.
Skin care around the eyes
"Principles of skin care around the eyes, including dark circles. I will not be banal: sleep and fatigue do not always help reduce the problem, especially with age.
If the pigment predominates in the skin under the eyes (especially in the lll-lV phototype), it is necessary to use soft lightening serums and gels with vitamin C and be sure to use sunscreen not lower than SPF 30, undergo a course of whitening surface peels.
If the dark circles are vascular in nature, it is necessary in the morning to use patches, bandage gels with lymphatic drainage effect, containing caffeine, chestnut extract, vascular peptides. The beautician will undergo a microcurrent procedure 3-4 times a year, cryolifting, mesotherapy with amino acids and polynucleotides.
If the reason is the deepening of the nasolacrimal furrow (with age or sudden weight loss) and as a consequence – darkening of the occipital area, then only injectable techniques will help – plasma gel, fillers based on hyaluronic acid or filling with own fat ", – advises a doctor of the highest category. dermatovenereology, member of the Scientific Committee of Euromedicom (AMWC, AMEC, ICAD) Vladlena Averina.
Sleep and beautiful skin
"The most difficult thing for the body – irregular schedule and violation of circadian rhythms. As a result, sleep disorders may occur.
Sleep performs an important restorative function that cannot be neglected. Rest allows the body to relax, detoxify and regain its strength, and also helps the brain to relax and absorb many of the experiences accumulated during the day. Without sleep, we not only lose beauty and fresh skin, but also open the door to pathology.
In nature, everything is cyclical. There are many physiological natural cycles that are synchronized with the environment and follow precise patterns and are determined by circadian rhythms. Hormone production has its own specific rhythms, as well as DNA synthesis, immune system activity, metabolism and digestive organs, body temperature and liver and kidney function. They all vary greatly within 24 hours and require moments when the body needs complete rest to work well and maintain a perfect balance of health.
Maintaining a balanced cycle of rest / activity is vital and absolutely necessary for a healthy daily life ", – emphasizes the dermatologist, certified trainer of Comfort Zone.