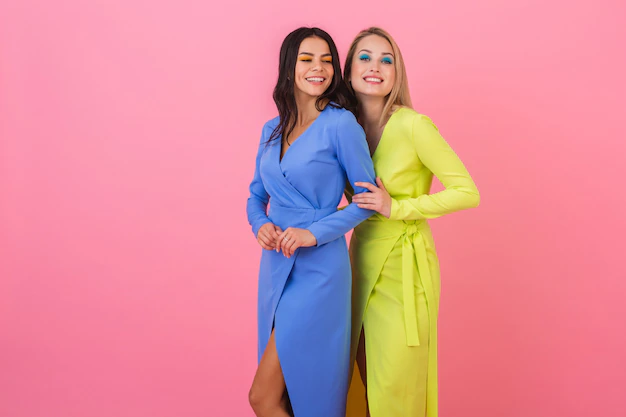 A month ago, the whole world went crazy over black. In any incomprehensible situation, wear black and it will be cool – this is the unspoken rule of each of us. Today, the main hit of the season is yellow and blue.
Fashion has never been just clothes. From the very beginning, this complex socio-cultural phenomenon has been a way of expressing one's self, values ​​and ideals that one wants to transmit in society. The war that is taking place in Ukraine today is not a local conflict. It is an international act of terrorism that threatens the well-being of the world and, for the first time since Hiroshima and Nagasaki, seriously raises the issue of the impending nuclear catastrophe. And so instead of "rebellious" black, the whole world goes out in "free blue" and yellow, which "calls for action." Because everyone in the world wants to say together: "We are against the aggression that Russia is showing today."
Probably, every famous band has already released a branded merch with the symbols of Ukraine or yellow and blue tones, such as Metallica or Red Hot Chili Peppers. And those who did not have time, were able to get yellow and blue T-shirts at the last show Balenciaga, where in each of the 525 seats was a note "Fashion Week today looks absurd. But we couldn't not hold the show, because it meant giving up "and a T-shirt in the colors of the Ukrainian flag. As a Georgian refugee, Gvasalia Demna is today the most active fighter for Ukraine's freedom in the world of fashion. He was dressed in a yellow and blue outfit at his own show.
Not only are influencers and street-style icons like Emily Sindlew, Mids Emil Madsen, or Bigan and Leoni Hanni constantly appearing on the streets in yellow and blue outfits, but also representatives of the US Parliament. Yellow and blue became not only a symbol of the struggle for freedom and democratic values, but also a symbol of unity. For the first time in history, this color was able to unite Democrats and Republicans, an unprecedented event in American history. All members of parliament, regardless of goals and values, wore yellow and blue clothes or took small Ukrainian flags to the meeting to declare their position. But brands like Marni and Botter have released collections in yellow and blue. "The main color of spring-summer 2022 was supposed to be pink, but today it is quite reasonable to overshadow it yellow and blue."
The idea of ​​wearing clothes of certain colors to express one's own political position is not new. Culturologists hold the idea that even the Ukrainian wreath once served as a symbol of unity and carried to the masses the idea that "Ukraine is my land. And I belong to her and her ideals, "because a wreath of flowers was growing in certain areas. Moreover, as early as the Second World War, people in France began to wear things that, although not decorated in national colors, could be recognized by the French as typically national due to the cut and seams.
Today, the whole world is pulling Ukraine. Louis Vuitton, Dior, Hermès, Chanel, Prada, GUCCI, Saint Laurent, Cartier, Burberry, Balenciaga, Zara, H&M.
Not to mention that all financial transactions and social activity in Russia today have become virtually impossible due to the closure of Visa, Mastercard, the suspension of euro and dollar supplies to the US and EU member states, as well as the closure of Facebook and Instagram. Today, the whole world understands that we are not fighting for the original Ukrainian values, but for the freedom and future of the whole of Europe, as well as for maintaining the geopolitical balance in the world. "Stand with Ukraine" is not only a sweater from DRESSX, worn by every famous person in the world, but also a call to action that can save the future if not all, then most of humanity.
"This war is a struggle for democracy, freedom, for the whole world and the global world order. We, Ukrainians, are fighting here for the whole world and the whole world has no right to stay aside, to remain silent and just "deeply concerned". That's not enough, "said Maria Mokhova, co-founder of the White Rabbit PR agency, on her Instagram page.
It is difficult to disagree with her. And we are not the only ones who know about it. Today, the whole world wears yellow and blue and boldly expresses its support for Ukraine. After all, our yellow is not only a wonderful wheat in the Ukrainian fields. It's not just the golden sun and prosperity. Our yellow is freedom, faith in the best and inexhaustible optimism of the Ukrainian people. A people whose head has always been a blue, peaceful, honest and trusting sky. The sky where there is no place for Russian missiles. Stand with Ukraine.