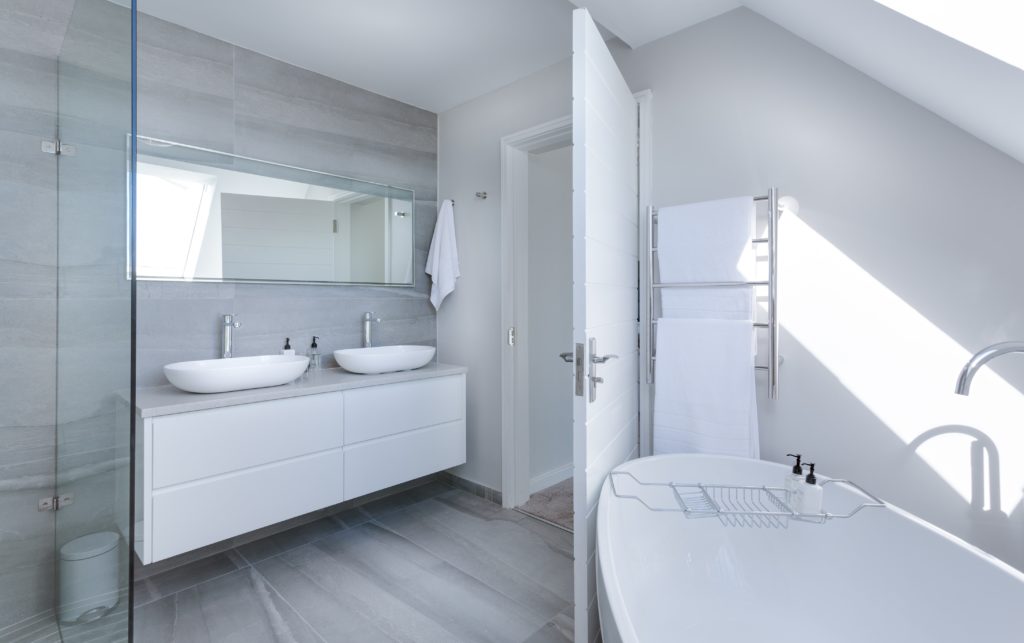 Experts advise to choose and buy all bathroom products in a single design solution. This avoids an eclectic style, creating a comfortable and elegant space instead, in which it is easy to introduce new elements and leave the ones you especially like. The Ravak brand has already made this decision and offers it in eight concepts. A common feature of the Chrome concept is that all its products, namely bathtubs, bath curtains, shower enclosures in various designs, shower trays, ducts, washbasins, furniture, various types of faucets and accessories are characterized by an oval shape that unites them in a conceptual set.
The Avocado concept is designed for small spaces, so the shape of the bath to the last millimeter will provide even the smallest bathroom with comfortable bathing and unlimited access to the sink.
Slim Design
The delicate design of surfaces and furniture in the bathroom creates an atmosphere of lightness, relaxation and sets you up for relaxation, as well as optically unburdening. The subtle proportions of the profile give the showers lightness, and the bathtubs with a thin board are perfectly combined with the cladding, which creates one whole, without transitions. Washbasins made in Slim Design are light, while maintaining strength.
Practicality
Today, practicality from a fashion trend in interior design has become a system of life. Sophisticated design solutions, accessories and furniture require time that none of us have. Time has become a new asset, and its savings have been reduced to the rank of a cult, so suspension systems have become one of the main concepts in the design environment. Wall-hung toilets, bidets and furniture make it easier to clean the bathroom, and concealed installation does not spoil the appearance. Built-in faucets and built-in tiles shower channels also play a practical role, allowing you to save the plane of the bathroom. Small bathrooms especially benefit from such solutions.
Transparent surfaces
Mirrored and transparent surfaces can visually expand and enlarge the space, which benefits both large and small bathrooms. To do this, as an option, you can use open showers with glass walls. Transparent shower enclosures and shower doors from Ravak feature safety transparent glass with Ravak AntiCalc® protective coating – an invisible shield against dirt and limescale, as well as ease of use, as they consist of two parts: movable and immovable.
Tree
In today's man-made space, designers are increasingly using natural materials that create the illusion of the presence of nature in the premises – wood. It is most often used as a wall and floor covering, but it can also often be seen as a piece of furniture – for example, on the countertop under the sink.
Another win-win option is to install a City Slim bathtub with a sleek board only 18 mm high, as well as choose a set of cladding panels designed specifically for it. Then the scheme is as simple as possible: instead of lining the bathroom with masonry or ceramics, you need to choose one of the panels. The range will surprise even a gourmet in terms of interior decoration: the design of the panels is made in the style of walnut, oak, satin (matte) wood, or just white. This small detail completely changes the style of the bathroom in seconds, is installed around the bath in a few minutes and is waterproof.
Hot tubs
The total lack of time for the inhabitants of the stone jungle dictates the trend of equipping the bathroom with whirlpool baths. This way, a SPA location automatically appears in your apartment, where you can get to the salon without having to register and need to get there.
For example, the Ravak Relax Pro hydromassage system can be supplemented with H20 Color chromotherapy, aromatherapy, underwater lighting or disinfection. Ideally!
White color
For several years in a row, designers have offered to decorate the bathroom in dark blue, sky blue, pale pink. Today, the white shade, which symbolizes absolute freedom and purity, is back in fashion. It is great that this simplicity is the basis for a wide range of design solutions. White is a corporate color used by Ravak experts in the design and furnishing of bathrooms. Everyone will find their perfect white in an impressive range of bathtubs, sanitary ware, washbasins, accessories and bathroom furniture.
Simplicity
The design of toilets, washbasins, showers is becoming simpler and more concise. Designers do not rely on a large number of decorative elements, but on the quality, versatility and abundance of light in the bathroom. To achieve the desired effect of special luxury in simplicity, do not clutter the space with lots of small details. It is better to buy one or two large items, and focus on them.