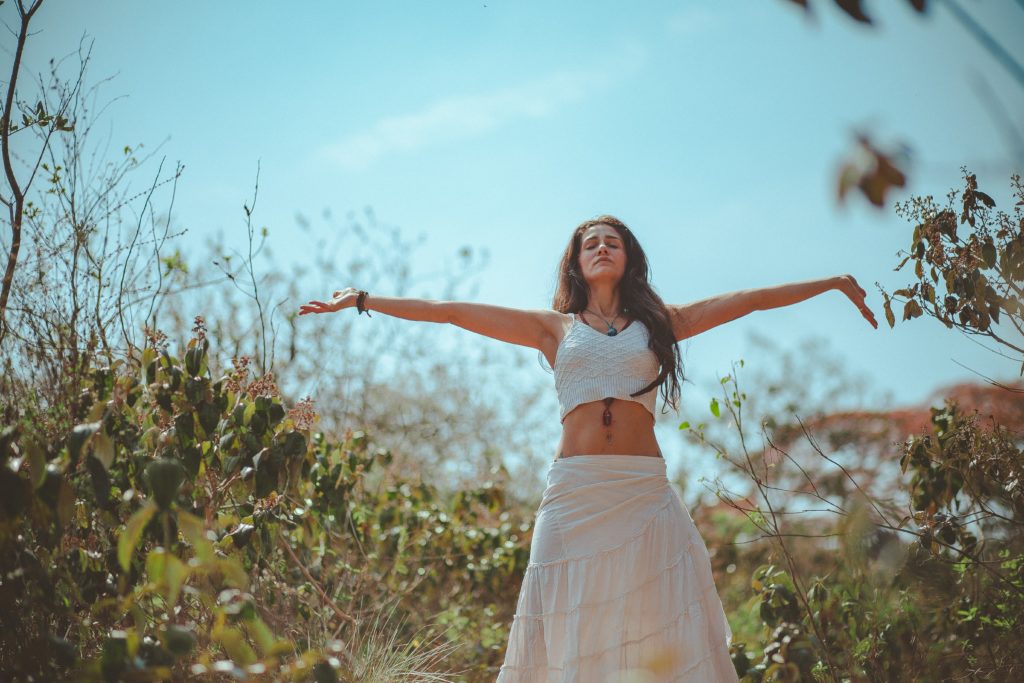 1. Yoga for the face
The use of massage therapy and Face Yoga exercises that stimulate the muscles, skin and lymphatic system are designed to relax facial muscles, relieve tension and stress. Facial yoga exercises really help to improve appearance, reduce stress lines, strengthen and tone facial muscles, increase blood circulation and even smooth out wrinkles. Gua Sha stones complement yoga for the face as a tool to form a beautiful oval face, reduce puffiness and dark circles under the eyes, while promoting lymphatic drainage.
2. Adaptogens
Adaptogens are plant substances that provide stabilization of many physical, chemical or biological physiological processes in the body. There are more than 70 species of herbs and mushrooms that have been used for centuries in traditional oriental medicine: for example, reishi, ginseng, tulsi, schisandra or ashwagandha. Today we live in very anxious times, and adaptogens can help improve quality of life, improve physical performance and protect neurological health. In 2022, adaptogens are leading in the ongoing revival of herbal medicine.
3. Immune health
This year we will see an increased interest in immune health. Including healthy foods such as fruits, vegetables, whole grains, protein, low-fat dairy products, nutritional yeast, probiotics and active ingredients in your daily diet will provide the body with key nutrients and help build an impenetrable shield against bacteria and viruses.
4. Digital healthcare
Mental health services have been adapted to an online format, expanding access for those who may not have felt comfortable communicating with a real-life psychologist. Also, meditation apps have never been as popular as they are today. Another important point: technology has made it possible to meet with doctors and therapists online. Now it is easy to book virtual sessions with personal trainers, nutritionists, physiotherapists, sleep specialists and nutritionists.
5. Stress tracking
In the coming year, technology has become an effective way to track stress. For example, many smart watches and phone applications such as the Apple Watch, Fitbit, or Google Watch help control stress by changing your heart rate and heart rate.
6. Sleep hygiene
Sleep and awakening are the processes we interact with every day, but the way we do it will change dramatically in 2022. Sleep tracking devices, such as the Apple Watch, Auro`s Smart Ring or EEG Headbands, are gradually turning sleep into a more balanced process. Waking up and falling asleep at the same time improves biorhythms, increases concentration and adds energy. To make the sleep ritual flawless, use aromatherapy oils and refrain from using all devices for at least an hour before going to bed. Also, use the night mode feature on your smartphone, which uses the device's clock and geolocation, and automatically shifts the colors of your display to warmer in the evening and returns the display to its normal settings in the morning.
7. Portable health tools
An important trend is taking responsibility for one's own well-being and small steps to improve one's health. Personal ECG scanners, self-cleaning water bottles, pressure monitors, humidifiers or portable devices to monitor skin hydration help.
8. Growing own products
For all those who were locked in a house during the COVID-19 pandemic, arranging a green garden and creating a mini garden has become a source of peace and concentration – in fact, it is a place where you can get rid of everyday stress by caring about something. In 2022, this activity was transformed into a more self-sufficient harvesting process. Today, families around the world grow roots, herbs or fruits – so they can control the quality of the food they eat and reduce their dependence on supermarket products.
9. Use of DNA to determine health risks
Disclosing your pedigree and using DNA to determine health risks can minimize intuitive steps and guesses in trying to change your lifestyle, allowing you to make more strategic decisions that will really improve your health. Genealogical research requires a saliva sample to analyze DNA and predispose to various diseases, information about preferred diet, sports and more.
10. Eco-travel
This year we will discover unusual locations for travel in Ukraine or other countries, with an emphasis on eco-recreation. Today, sustainable development and environmental responsibility have become priorities for both travelers and locals from communities around the world. In 2022, we will see how our favorite hotels and SPA-centers will emphasize the connection with nature, and among the new places for recreation will be an increasing percentage marked ECO.
11. Skinimalism
Skinimalism is a new philosophy, which means simplifying multi-stage skin care and limiting the means used to essential products. Fact: A "pie" from care products can clog pores, cause rashes and provoke outbreaks of acne. Of course, the change of seasons can lead to adjustments in your skin care, but in principle, they do not need as much as we are trying to impose. For example, in winter, double the use of moisturizing products, introduce acids into the routine to combat peeling and keratin particles, use natural oils that protect the lipid layer from damage. One of the favorites for the cold season is the nourishing, moisturizing elixir Superseed Soothing Hydration Organic Facial Oil from the organic brand Mádara, which contains 8 valuable dry oils. Thanks to sea buckthorn berry oil, rich in antioxidants and carotenoids, it protects, restores and rejuvenates the skin. Omega-3 and omega-6 fatty acids found in blackcurrant and cranberry seeds reduce peeling and irritation. Broccoli, avocado, oat, rosehip and evening primrose oils effectively fight dry skin, strengthen it and make it more elastic. And in summer, use oil-free cleansers, antioxidants and sunscreens.
12. Holotropic breathing
Holotropic breathing work is a unique technique of self-healing to achieve a state of integrity, where controlled and fast breathing actions are used to influence mental, emotional and physical states. Thus, healing comes from within the person practicing breathing work. In particular, how we breathe, among other things, increases immunity, endurance, energy, athletic performance, ability to cope with stress, and reduces anxiety or panic attacks. To begin, focus on breathing and how it occurs. An easy and accessible practice of holotropic breathing may be to practice slow, controlled, and conscious abdominal breathing a few minutes after waking up, or when you are under stress, or at bedtime.