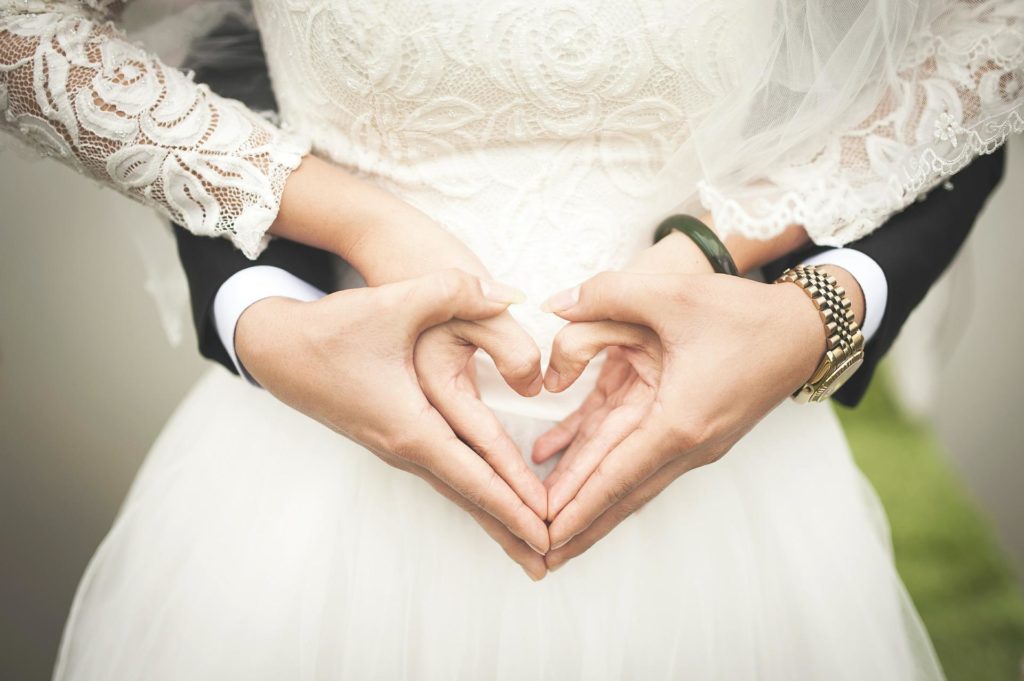 We really want to believe that this fall, the wedding season will take place and thousands of brides will be able to fulfill their childhood dream and wear a white wedding dress. We offer future brides to familiarize themselves with the new wedding fashion trends, including: large bows, romantic ruffles and frills, voluminous sleeves, floral appliqués, square cutouts in the neckline, trains from the waist or shoulder blades, ball gowns in the style of princesses, and also images with black elements. We have collected main wedding trends of the fall-winter 2022/2023 season.
Bows
For several seasons in a row, bows do not want to leave the wedding collections of brands. Each designer interprets this feminine detail in a different way: some offer large bows on the back or waist, while others adorn the shoulders with an elegant detail. In the collections of brands, you can see both a voluminous reading of this romantic trend and exquisite little bows. Look for inspiration in the bridal collections of Halfpenny London, Monique Lhuillier Bliss and Neta Dover.
Voluminous sleeves
In the new season, designers suggest choosing dresses with an emphasis on sleeves — a popular trend of the fall season. The brand's collections feature wedding dresses with lantern sleeves in the style of the Regency era, looks with weightless puff sleeves and so-called bishop sleeves that decorate white outfits. In addition, in new collections, many brands have made sleeves a functional and practical detail. So, if you are tired of voluminous puffs, you can easily remove them while remaining in an elegant wedding dress. Our favorites are represented in the collections: Vera Wang, Monique Lhuillier and Halfpenny London.
Black details
Nowadays, modern wedding dresses can be made not only in white and milky shades, but also in pastel shades of blue, pink or yellow. In addition, designers are not afraid to use black color as small details in wedding collections. From black bows to onyx floral appliqués and exquisite silk ribbons, subtle touches of black add a modern twist to this season's wedding attire.
Ruffles
For the 2022 wedding season, designers have offered plenty of ways to wear ruffles on the big day, from lavish layers of foamy tulle with frills at hems and hems to cascading, sculptural tiers of silk. Yes, at Anne Barge Bridal you will see a silhouette bustier dress with elegant ruffles, at Amsale Bridal you will see an image with a lush skirt of delicate tulle, and at Pronovias by Vera Wang you will see a silk white dress with a cascade of exquisite ruffles.
New loops
This fall, designers have rethought wedding trains and offer modern brides to choose a more concise reading instead of dresses with long skirts that turn into multi-meter trains. Now, wedding dresses are adorned with trains that start at the shoulder line, from the lace detail of Lihi Hod Bridal to the sleek satin options of Remova Keveza Bridal and Nadia Nanjarrez Studio Bridal.
Victorian style
A year ago, Princess Diana's niece, Lady Kitty Spencer, got married in a lace wedding dress with a high neck, sweeping shoulders and delicate buttons down the front. The image in the Victorian style was created by the Italian brand Dolce & Gabbana. Now the trend smoothly moved to the autumn-winter 2022/2023 collection. Ukrainian brand WONA Concept presented its version of a wedding dress with sparkling details, inspired by the Victorian era. Rivini by Rita Vinieris Bridal showed a dress with a lace top and a flowing satin skirt, while Monique Lhuillier Bliss Bridal embellished a high-necked look with white flowers.
Floral applications
Traditionally, flowers are the basis of wedding fashion, and in the new autumn-winter 2022/2023 season, they have acquired a three-dimensional interpretation. Voluminous floral appliqués almost come to life on wedding dresses. Viktor&Rolf Bridal decorated the back with delicate flowers, Oscar de la Renta Bridal presented a romantic mini with large buds, and white phlox bloomed on the Lela Rose Bridal dress.
Square neckline
After the release of the popular series "The Bridgertons", the style of the Regency era began to appear in bridal collections. Square necklines as the main stylistic element of this era decorated minimalist white dresses. The combination of simple elegant silhouettes, monochromatic fabrics and a boxy roll, reminiscent of the movies based on Jane Austen's novels, is a fashionable and timeless solution for brides.
Strapless ball gowns
Strapless sweetheart necklines and full skirts are a classic take on wedding fashion that will always be relevant. Dresses in the style of princesses with voluminous skirts were chosen at one time by Victoria Beckham, Chrissy Teigen, Sarah Michelle Gellar and many other celebrities. In the new season, we suggest looking for inspiration in the Elie Saab Bridal, Monique Lhuillier Bridal and Viktor & Rolf Bridal collections.