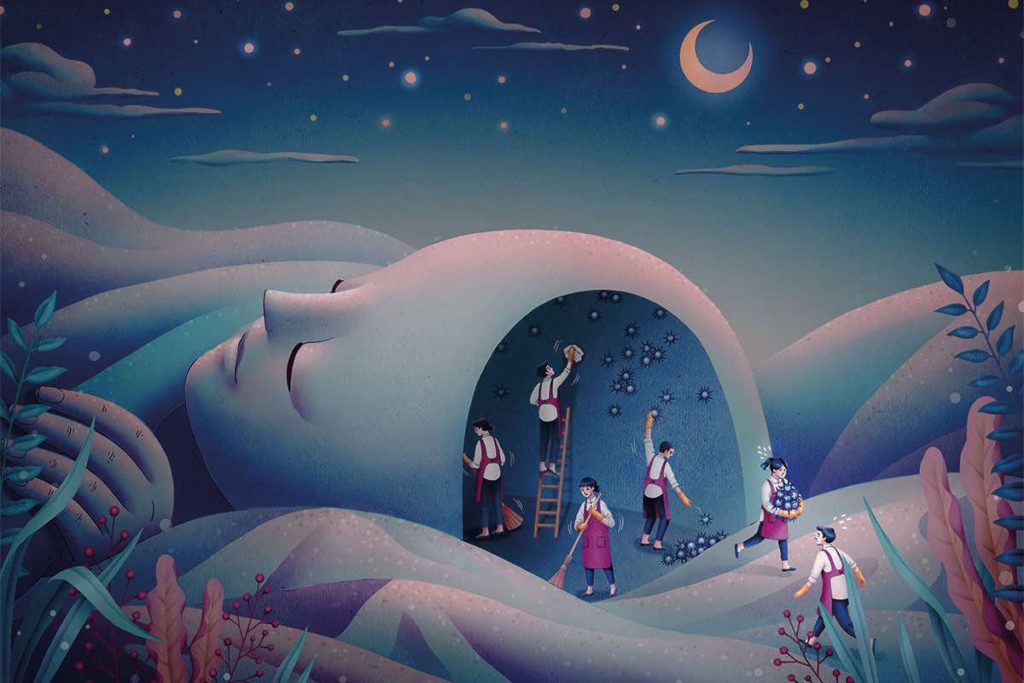 The link between sleep and the immune system has long been known, and even a minor sleep disorder reduces the body's resistance to viruses and colds. Therefore, despite the daily busy schedule, it is very important to allocate enough time for sleep. Sleep is a periodic functional state of the human body, which is characterized by the loss of consciousness and a decrease in the ability of the nervous system to be responsible for external stimuli. Normally, sleep occurs cyclically every 24 hours. Adults should sleep at least seven hours a day. Young people and people with chronic diseases need nine hours of sleep. Babies sleep 18 hours a day, interrupting sleep just to eat. And only a small group of lucky people can sleep up to six hours a day. This is about 5% of the world's population. And no physiological abnormalities in such people, according to scientists, are not observed. This condition in this category of the population is due to a genetic factor. Sleep is a complex process regulated by melatonin, a sleep hormone produced in the brain. During sleep, muscles tense and relax, and your heart rate and respiration increase and slow down. When a person falls asleep, the organs of his body relax and rest, neutralizing the fatigue of the day. One of the most important functions of sleep is that it allows the nervous system to recover from daytime stress. Millions of people today owe a great deal to their bodies.
As a result, it is one of the main causes of car accidents, the collapse of many careers and even the breakdown of marriages. Diseases such as diabetes, cardiovascular disease, obesity, depression and many others are related to sleep deprivation. Earlier, doctors believed that there was only one sleep disorder – insomnia. However, a commission set up by the US Congress has compiled 17 different sleep disorders. One of the most pronounced problems of sleep deprivation has been that our society has become 24-hour.
Favorable factors are the work of round-the-clock supermarkets, restaurants and fast food. Also, a lot of time is spent on night watching movies, online publications. However, we must realize that sleep is not a luxury, it is a time of rest, which is vital.
The following signs indicate healthy sleep:
You fall asleep easily without sleeping pills and before going to bed you are not bothered by feelings of anxiety or worry;
You rarely wake up at night, but if you wake up you quickly fall asleep again;
In the morning you wake up at the same time and usually without the help of an alarm clock;
When you get out of bed, you feel refreshed and you do not want to sleep almost all day;
However, if not everything is so perfect, there are some effective and practical tips that will promote healthy sleep:
The bedroom should be quiet, dark and if possible relatively cool;
Quit smoking. People who smoke are more likely to wake up at night, probably due to withdrawal symptoms;
Before going to bed, do not drink alcohol and drinks that stimulate the nervous system, including tea, coffee or Coca-Cola.
Do not abuse sleeping pills. Many sleeping pills are addictive. With prolonged use, their effect weakens and they lead to negative side effects;
Avoid excessive physical or mental activity before bed. Exercise is good for
relaxation, but you should not do it at bedtime. You don't need to think about solving big problems or reloading your brain before going to bed;
To sleep well, try to calm down and relax. Forget about daily worries and do
something nice. Read or spend time in a cozy atmosphere with your family or loved ones.