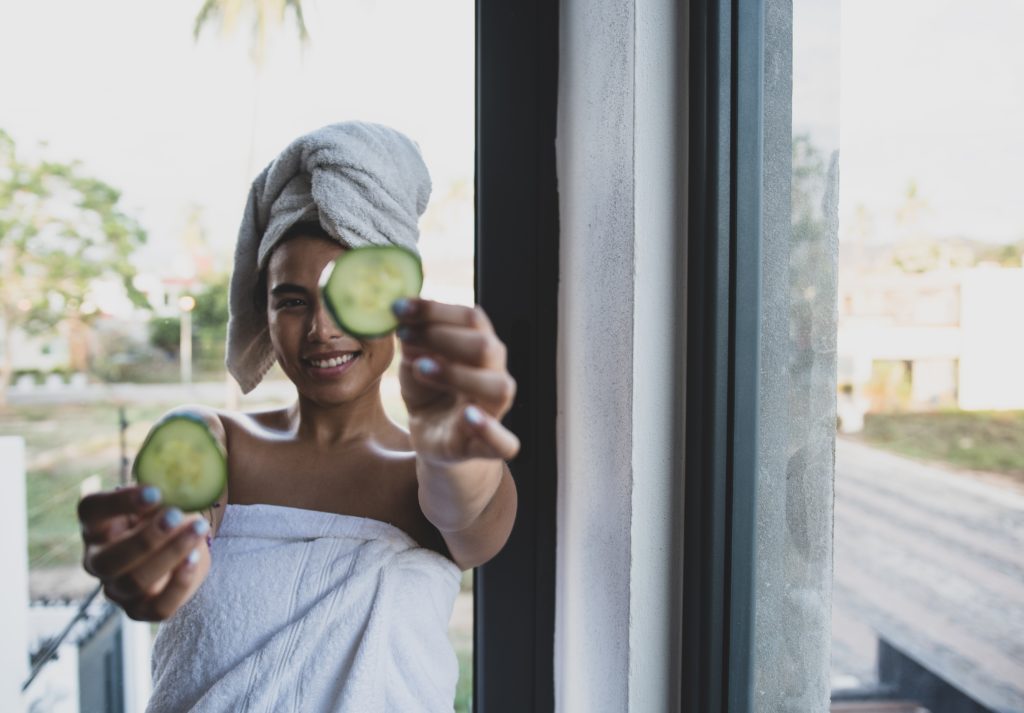 The expression "fresh as a cucumber" is easy to apply in life if you really make friends with this popular vegetable. We will tell you why cucumber is so useful and how to use it in your home care to look 5 years younger.
The benefits of a cucumber mask
Cucumber is said to be a useless vegetable because it contains only water (95% to be exact). But for the skin, this life-giving moisture is just extremely necessary. It provides hydration and a fresh complexion, maintains skin tone, and fights edema.
The remaining 5% are vitamins (A, groups B, C, E, PP, H, K) and organic acids. They have an antioxidant effect, prevent premature skin aging, whiten and nourish the skin.
Cucumber mask: homemade recipes
Cucumber eye mask.
Place the cucumber in the refrigerator for 15 minutes to cool the vegetable. After that, cut it into circles about 2 mm thick and place it on the orbital zone, after cleaning the skin around the eyes. Leave the mask on for 15-20 minutes, then wipe the skin with toner and apply your favorite moisturizer.
Soothing Express After Sun Mask.
Grate a quarter of a fresh, chilled, peeled cucumber and mix the resulting gruel with 1 tablespoon of aloe vera juice. Apply to the skin and leave the mask on for 10-15 minutes. To prevent the mixture from spreading, you can apply it to cheesecloth or a napkin. After the procedure, wash with cool water and apply a moisturizer.
Refreshing cucumber tonic. Mix watermelon juice and cucumber juice in a 1: 1 ratio. Place the liquid in a bottle and keep it in the refrigerator. If you need to refresh and moisturize your skin, soak a cotton ball in cool cucumber-watermelon juice and wipe your face.
Whitening mask.
Mix cucumber and lemon juice in a 3: 1 ratio. Apply the resulting liquid to the skin with a cotton pad and wash off after 15 minutes with cool water.