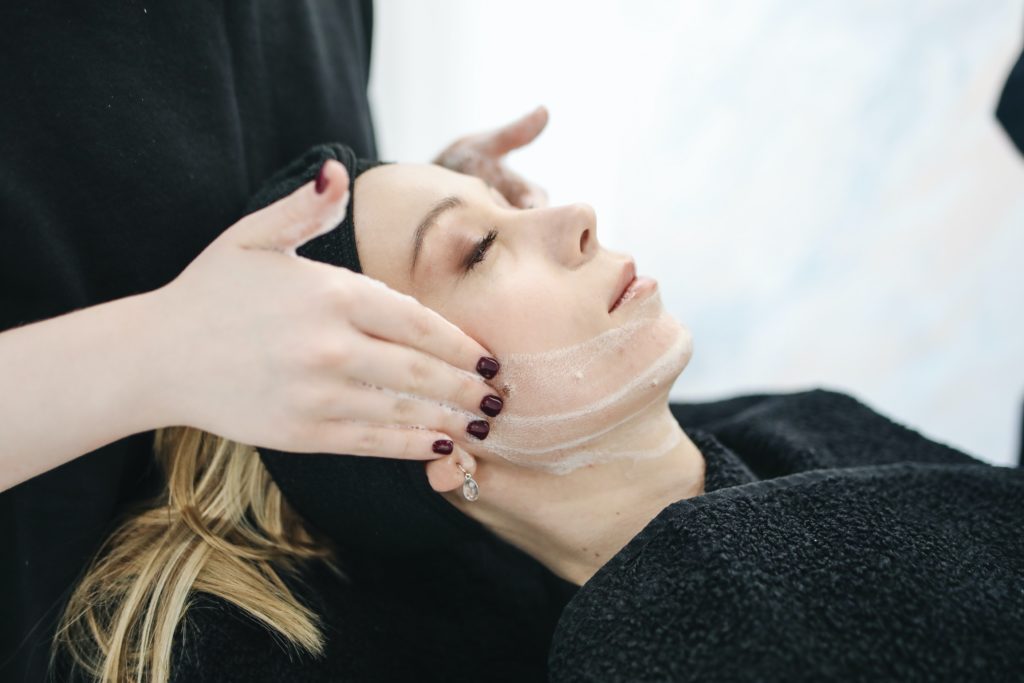 Be consistent
"Don't change your makeup all the time. It is a myth that the skin stops responding to a specific active ingredient, says Malvina Cunningham, Skin + Me Consultant Dermatologist. "Maintain a regular morning and evening regimen."
Be careful with cleansing
"Find the right cleanser," says Dr. Justine Hextall, Consultant Dermatologist. – No moisturizer can compensate for a damaged skin barrier. If your skin feels tight after cleansing, look for a softer – preferably a moisturizer – that will leave your skin soft and hydrated. "
Change your care in winter
"Flaky skin doesn't need peeling, it needs moisture," says Dr. Christina Psomadakis, a dermatologist. – I often see people overdoing them with peels, when the face and body flake off, thinking that this is the best strategy for getting rid of dead skin cells. In truth, skin needs adequate moisture levels for normal exfoliation processes to work properly. Improper exfoliation can lead to increased skin sensitivity, which is a sign of a weakened skin barrier. "
Act delicately
"Be careful with retinol and retinoids in the beginning. Apply a pea-sized product to your face; then "cover" with a moisturizing serum or cream. The amount of the product should be increased with each step – Dr. Alexis Granit, consultant dermatologist at Skinesis Medical. "First, you need to apply retinol products at night every other day, and only then move on to daily use if the skin reacts normally."
Be careful with essential oils
"If your skin is prone to acne, eczema or allergies, then I advise you to skip essential oil products or do a patch test. For everyone else, oils are useful: they perfectly nourish the skin. Care products with essential oils imply the natural origin of the ingredients. Dermatologists carefully test the formulations to minimize the risk of irritation, "says dermatologist Tivi Marutappu.
Protect sensitive skin
"Water and shower gel can cause redness and irritation. I recommend first applying a moisturizer to the delicate skin around the eyes and neck to protect against products unsuitable for the face. After showering, use a gentle moisturizer to prevent dryness. If you are swimming, you need to rinse off the chlorinated water immediately after the pool, "advises consultant dermatologist Dr. Hextall.
Consider alternatives to retinol
"Health care with niacinamide and hyalurunic acid is becoming more popular. Niacinamide is a powerful antioxidant and anti-inflammatory agent that can help reverse the signs of aging and irritated skin. Hyaluronic acid is an excellent moisturizer that improves the condition of the skin barrier. Dermatologists use oral nicotinamide and niacinamide to reduce acne and rosacea, "says dermatologist Anthony Rossi.
Use enough product
"I recommend using my 13-point technique (apply all over the face) to ensure the correct dosage and even distribution of the care products. It deals with everything from sunscreen to retinoids, "says Sam Bunting, dermatologist and founder of Dr. Sam's Skincare.
Give your products a chance
"I have lost count of the cases where I heard that cosmetics did not work. It is clear that after 2-3 weeks of use, there will be no effect. We usually agree to "check the clock" only after 2-3 months of active treatment. It takes 2-3 months to understand the general trend. Well, if we are not talking about a moisturizer that quickly relieves dryness. Success should be measured in months, not days, "says Justin Kluck, consultant dermatologist and scientific advisor to Renude.
SPF is our everything
"You need a broad spectrum SPF 50 to protect against UVB and UVA rays that cause aging and pigmentation. Antioxidants should be added to sunscreen — usually in the form of vitamin C or D, or ideally both, "advises dermatologist Emma Creythorn. "It's important to apply the correct dose of SPF," says Sam Bunting, dermatologist and founder of Dr Sam's Skincare. "That's a quarter teaspoon just for the face.)"
Trust one specialist
"It is very important for one person to observe your skin over time. He sees progress in the operation of the care products; the effect of injections, lasers, peels, screening of moles and blood vessels; and also oversees any medical skin problem such as acne, rosacea or other skin rashes, "dermatologist Anjali Mahto.