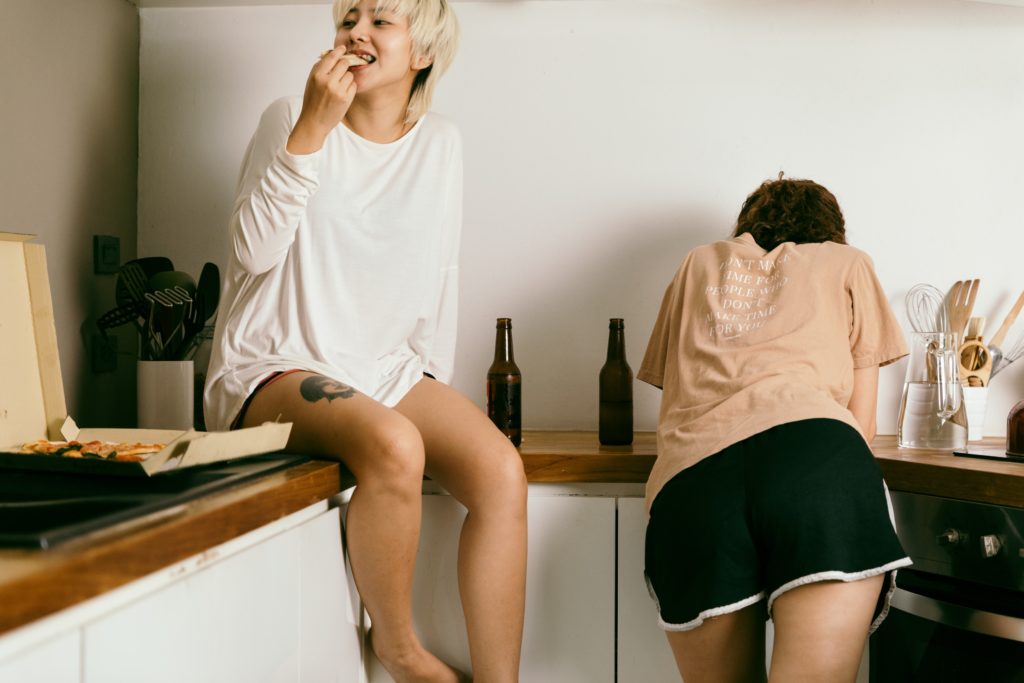 It is unethical to comment on someone else's figure. But what if words of admiration fly from their lips? – Use self-control. Explain why. Complimenting someone about losing weight can be just as devastating as saying, "You've recovered," Demi Lovato wrote on Instagram Stories, discussing a post on eating disorder recovery. "If you don't know the history of a person's relationship with food, please do not comment on his body, because even if your intentions are pure, it can make him wake up at 2 o'clock in the morning, pondering your words. " The warning from the singer, who speaks openly about the fight against eating disorder, reminds us what it's like to live with a mental disorder. World Eating Disorders Day, which is celebrated worldwide in early June, is helping to raise awareness of the growing number of people with eating disorder. In Britain, it is about 1.25 million people. Lovato explains how dangerous compliments to weight loss are. "Nice to hear? – Yes, sometimes. But an inner voice says, "You see, people like you lose weight" or "You'll eat less – you'll lose more weight." But there's a flip side to the coin when I start thinking, "Damn. And then what did they think of my body before? " 28-year-old Amy Victoria Long, a personal trainer and fitness influencer who is now recovering from eating disorder, admits: "A lot of what Demi says, I can try on myself;" positive "feedback from people about my weight loss only confirmed me in that it is necessary to continue: attacks of overeating, vomiting and training to exhaustion … Compliments feed the beast. But other comments I heard gaining weight ("you looked tighter in that photo" or just "you look good") provoked unhealthy thoughts: I woke up in the middle of the night with a rush to go on a diet. " Amy's situation was further complicated by the fact that compulsive overeating and anorexia in her case were combined with orthorexia – a lesser-known form of eating disorder, which is not officially classified as a disease, and means obsession with health. In the case of Amy, it was strictly regulated eating, dietary restrictions, calorie control against the background of secret intake of laxatives and diet pills, as well as addiction to exercise. "I went to the gym twice a day, at least eight times a week," she says. "If I ate some chocolate, I'd come again – and spend an hour on the treadmill trying to burn it." But sports and "healthy eating" are so encouraged in society that Amy's eating disorder has not been diagnosed for years, and her behavior has often been praised. "People commented on how healthy I was, how I ate right, how hard I trained – it gave me a great feeling. And I completely denied that the way I actually treat my own body is unhealthy," Amy explains. I thought what? as soon as I gain my ideal weight, I will give up bad habits. But I didn't do it. The comments only convinced me that I was right. " Florence Gillett, a certified nutrition psychology trainer, explains: "Compliments reinforce the idea that obsessive control over diet and exercise is right and gives you moral superiority over others. All of your feelings can be based on how healthy you are." ", and you may develop a fear of eating" questionable "foods. Florence draws on her own experience: her own decade-long struggle with anorexia nervosa and orthorexia began when she lost weight to "look better in a wedding dress." I was called a "fitness addicted" – one who always refuses treats and demonstrates unrealistic self-control. I remember being praised for never intercepting sweets in the office. And she was proud of it, she recalls. – But such resistance is actually a sign of an eating disorder. Even if I wanted something sweet, I would not dare to eat it in my life for fear of disapproval. " Florence's weight dropped to a dangerous level. "At first, I didn't have the extra weight to fight, but I was pushed by the media narrative of 'eating less,' as well as the recognition of others: I really felt the power of my ability to 'control my body,'" she explains. Florence's body fat percentage dropped so much that she stopped menstruating. Her path to recovery began when she decided to try to have a child – now she has recovered and become a mother of two children. "It's time to stop linking weight loss and dieting to success," she explains. – Diet is accompanied by dangerous side effects: about 25% of people on a diet develop eating disorders. These are serious mental illnesses, including anorexia with a high risk of death. "
Rachel Evans, a certified psychologist specializing in the treatment of eating disorder, agrees. "Any comments about weight can be triggers, and an eating disorder often finds a way to distort even the most well-intentioned comment," she explains. "People with eating disorders often harm themselves or abuse (alcohol, drugs – ed.) Because they hate their body. Pointless or accidental comments about weight can provoke such behavior. "
Regarding Demi's story, she says: "I think it's brilliant; I would develop the idea and add: even if you think someone has a good relationship with food and their own body, it's still not worth commenting on. Many virtuously hide insecurity in my body and eating disorder; many of my clients don't even tell their closest friends and family at first what they're struggling with and what they're doing." She believes that it is necessary to completely change the perception of weight loss. We should not encourage weight loss: there are many reasons why someone could lose weight, including stress or illness, she explains. "Society is dominated by 'skinny ideals.' to these ideals. There is nothing knowingly successful or unsuccessful in one's natural forms. It is important to remember that weight or figure determine neither value nor success. " How to counteract this social norm? You can start by showing different bodies in the media – it will help fight stereotypes like "fat and funny", – Rachel explains. – On a personal level, it is important not to comment on the weight of other people. : for example, clothes or perfume ".