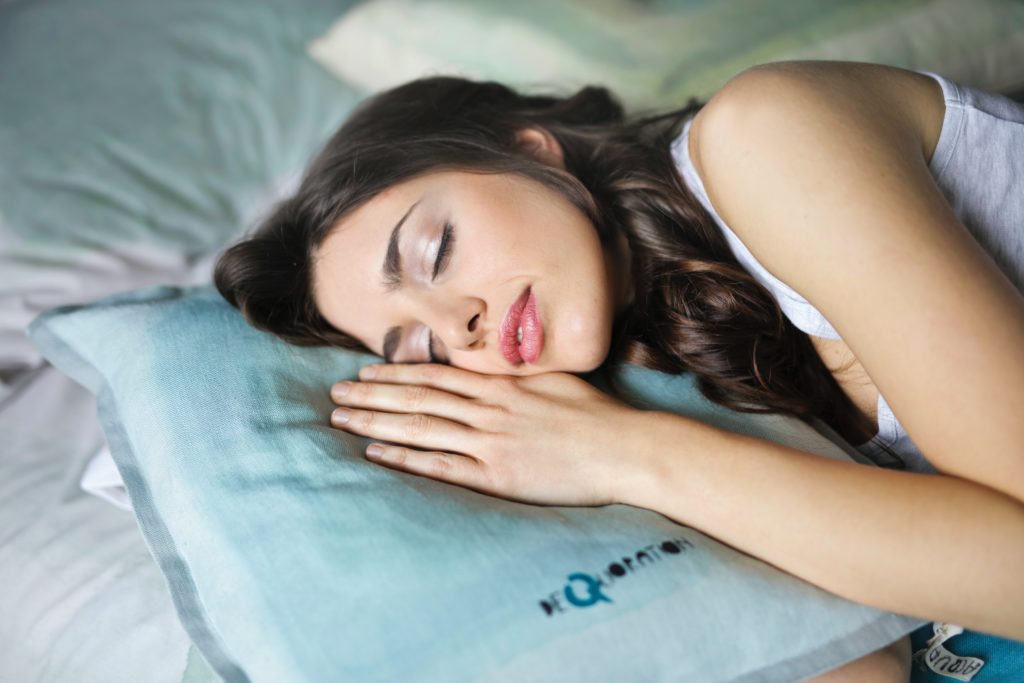 Quality sleep, even when there is anxiety and stress, is crucial. We learned about how to fall asleep sweetly, even when everything is wrong, together with Doctor of Medical Sciences, Professor of the Department of Neurology and Reflexology.
First, it is important to understand what sleep is and how it affects the body.
Sleep is a physiological state of rest and reduced reactivity of the brain, which occurs periodically and consists of two phases: slow and fast. Sleep is also a special functional state of the brain (as well as the whole human body), which is characterized by inhibition of active interaction with the environment.
Sleep is very important for us: for example, sleep deprivation will be worse than lack of food.
Short-term and prolonged lack of sleep is difficult to tolerate, accompanied by a decrease in the speed of mental reactions, decreased efficiency, increased fatigue.
Sleep duration
The required duration of night rest depends on age and the goal we set for ourselves. To stay healthy, it should be at least 8 hours for adults and 10-12 hours for children. The most valuable dream is night.
The most productive hours of sleep are between 20 and 22 hours: this is due to the rhythm of synthesis of melatonin – the hormone of the pineal gland, which regulates sleep. The most significant increase in its level occurs between 20-22 hours, and the peak – between the second and fourth hours of the night, with a gradual decrease until the morning.
But in children, daytime sleep is also important. Daytime rest is important not only for children: its value can be fully appreciated by people who live in hot climates and where it is customary to have a siesta – a 2-hour break, during which conditions are created for 1-1.5 hours of sleep. Productivity increases after a siesta, and people's health in such countries is much better. But everyone has individual needs for sleep, and if after a siesta you find it difficult to fall asleep at night – do not sleep during the day, but it is better to rest at night.
Mode change
In the past, researchers have studied a lot of people who fall asleep late but sleep long in the morning – they are called owls. To solve the problem of late sleep, it is important to understand how well this mode suits you? Going to bed earlier also means getting up earlier – for example, going to bed at 21: 30-22: 00 and waking up earlier – at 07.00.
It turned out that to change the circadian rhythm is possible if you go to bed at the same time every day, avoid the effects of brain pathogens at night and sunbathe in the morning. But changing your diet will not be easy for you: it can increase your risk of diabetes.
Just imagine: if the "owls" get up early, their brains continue to produce melatonin! It also happens that a deficiency of B vitamins and magnesium in the body promotes agitation, and it is simply impossible to fall asleep early. Caffeine as a stimulant for the brain causes a decrease in sleep duration. Therefore, you should avoid foods and beverages that contain caffeine. Also, in case of sleep disorders, it is better to refrain from drinking alcohol of any strength.
The importance of sleep
During a night's sleep:
skin is restored;
the body produces hormones that stimulate growth, cell proliferation and cell regeneration. It is an important regulator of the immune and hormonal systems;
a person loses water by sweating and exhaling moist air. Therefore, any diet requires quality and long sleep.
And that's not all! Night time is very important for the restoration of all body functions and protects the brain from damage. This is especially noticeable for those people who work night shifts. U.S. researchers have shown that those who work night shifts are more likely to have brain tumors. It turned out that they had damaged the natural mechanism of DNA repair, and their leukocytes were more accessible to radioactive radiation.
In fact, sleep at night is a vital process that affects all areas of the human body, from mood, emotions, mental functions, cardiovascular system, brain and recovery at the cellular level.
Sleep disorders
Sleep disturbances indicate overexcitation of the brain, which occurs due to excessive emotions and stress. Chronic stress can lead to psychosomatic illnesses. If sleep disorders are severe, you need to see a doctor: general practitioner, neurologist, psychiatrist, somnologist.
It is advisable to start the treatment of insomnia with sleeping pills of plant origin: children under 3 years of age with hyperexcitability to improve sleep should hang on a bed rack bags filled with hop cones, valerian root, lemon balm and more.
You will be surprised, but to reduce stress without significant pathological manifestations help, first of all, not sedatives, and tonics – adaptogens.
Individual resistance to stress and significant nervous loads plays a crucial role. When people who are unstable to stress find themselves in difficult living conditions, their adaptive mechanisms are quickly depleted, and the brain loses the ability to compensate for local disorders.
Sleep plays a significant role in the process of counteracting stress: it is important to sleep at least eight hours. When a person experiences sudden fatigue and drowsiness during a long working day, it is better to sleep for 15-20 minutes and then continue working. During a good night's sleep, enough melatonin is produced in the body, and it is very important for maintaining youth and beauty. Vitamins are not synthesized during sleep, but if you do not sleep constantly, you increase the loss of vitamins and trace elements in the body – especially B vitamins and iron.
A dream of beauty
Quality sleep is the key to physical and mental work, cheerful mood and slender figure. There is a simple rule of weight loss during night rest: nine hours of sleep can reduce excess body weight and thus improve the figure, and insufficient rest (less than nine hours), in turn, leads to obesity.
Being in a deep sleep, you burn more calories than during passive wakefulness: in a dream, body temperature rises and metabolism speeds up. Thus, lack of sleep leads to the accumulation of calories, not their burning. It can also occur during insomnia. In addition, lack of sleep leads to a decrease in leptin (hormone "eaten") and to increased levels of cortisol and ghrelin (hunger hormones). No process can prevent this: no injection procedures (mesotherapy), no hardware methods (electrosleep), not even an acupuncture session.
The natural process of sleep will not replace anything.
What foods can be eaten at bedtime
To sleep soundly and well, it is ideal not to eat after 18.00. Foods high in carbohydrates promote the production of serotonin in the CNS, which improves sleep. It will be appropriate to moderate consumption of foods rich in tryptophan – soy, cheese, yogurt). You should drink a cup of milk or kefir or eat a slice of white bread with a small layer of butter just before going to bed (preferably 15-20 minutes). You can drink a cup of tea (better without caffeine, because it is a pathogen for the brain) with a teaspoon of honey (it improves sleep by calming the brain). The maximum is 10-15 g of carbohydrates, but without sugar.
It is important to remember that eating a lot of food can impair sleep.
Also before going to bed is not recommended:
Drink alcohol of any strength
Drinking coffee
Smoke
Eat in the evening fruits high in vitamin C (kiwi, lemons, oranges)
Drink sweet carbonated drinks
Improve sleep
To improve the quality of sleep will be the most effective intake of vitamin and mineral complexes that help calm the brain: they should include pyridoxine (vitamin B6), which normalizes CNS function, especially when excited, magnesium, lack of which in the body can lead to anxiety , agitation, hyperactivity, nervousness, seizures and even hallucinations, the inhibitory amino acid glycine, which has a calming effect on the brain when it is excited. It is also important to use melatonin and L-theanine to treat sleep disorders: it is an amino acid found in green tea leaves and can promote relaxation.
In my practice, I prescribe only proven drugs and vitamin supplements. For example, Orthomol Nemuri night is a vitamin complex of the German company Orthomol, which contains a combination of all nutrients and plant extracts to maintain good sleep. Orthomol Nemuri night complex contains vitamins and microelements such as magnesium, vitamin B6, niacin, extracts of lemon balm, hops, green tea and L-tryptophan, which promote stable functioning of the nervous system and restore the psychological state, bringing it back to normal.
The main thing is that the consumption of this product does not lead to addiction. The use of this complex is very simple: the contents of the sachet should be poured into a cup and filled with hot, not boiled water and dissolved with stirring. You can drink it like tea at bedtime.