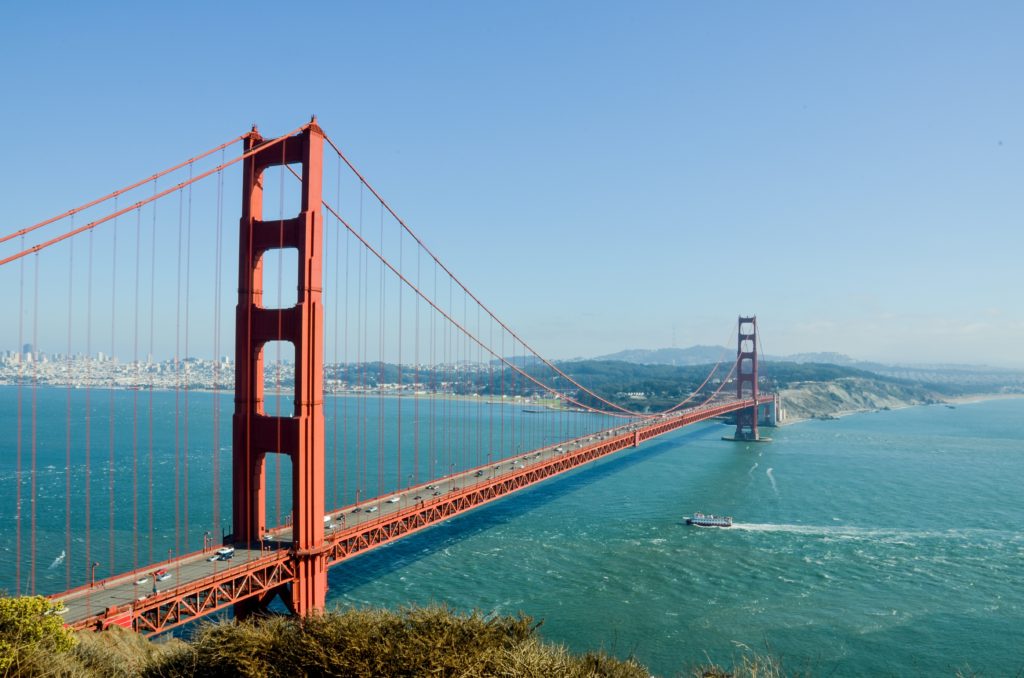 Alcatraz
The most famous prison in the United States and, perhaps, the whole world, Alcatraz is not only a correctional institution (by the way, it has been functioning only as a museum for more than 30 years), but also a small picturesque island 15 minutes by sea from the San Francisco pier …
Bridge "Golden Gate"
The Golden Gate Bridge is the city's most famous landmark, a symbol of San Francisco and the entire US Pacific coast. The handsome man hovering over the bay managed to "light up" in a hundred films and acquire his own website.
Museum of Modern Art in San Francisco
The Museum of Modern Art in San Francisco can be called the main and most visited museum in the city. In addition to the vast collection of works of art of the 19th and 21st centuries, numbering more than 29,000 works, the museum is notable for its ultra-modern building.
Coit Tower
Coit Tower rises on Telegraph Hill, where in the 19th century there was a semaphore that transmitted information about ships entering the port. It is named after Lilly Coit, who bequeathed considerable funds for the construction of a fire tower, from which the entire city is visible.
San Francisco Zoo
The San Francisco Zoo was founded in 1929. Its construction lasted 10 years: first, there was a monkey island, a lion's house, an elephant's house, a pool with sea lions, and bear grottoes. These were the first enclosures in the country for keeping animals in conditions as close as possible to natural ones.
San Francisco cable cars
An astonishing means of transport that San Francisco residents and visitors alike enjoy, cable cars seem to have teleported to the ultra-modern metropolis straight from the 19th century. Old trailers have been regularly running along the streets of Frana for the second century.
The Museum of Asian Art
The Museum of Asian Art in San Francisco is the largest museum in the New World, dedicated exclusively to the art of Asian countries. Its vast collection includes more than 15 thousand exhibits from India, China, Japan, Indonesia and other Asian regions.
California Academy of Sciences Museum
Covering an area of ​​4000 sq. meters, the museum gives the most complete picture of the development of life on planet Earth since its inception and tells about all the diversity of existing ecosystems.
De Young Museum
Magnificent collections of anthropological artifacts that trace the history of mankind, plus an excellent collection of American art from the 19th and 20th centuries, is the main reason why the De Young Museum is one of the most visited museums in San Francisco.
Pyramid Transamerica
The architectural dominant of the downtown San Francisco is the Transamerica pyramid, popularly nicknamed the spire. The graceful 48-storey skyscraper, which stands out sharply against the background of the traditional "box" architecture, was built in 1972 by order of the insurance corporation Transamerica Corp.
Pier 39
The popular area of ​​San Francisco Pier 39, as the name implies, is located in the bay, on the site of the former piers, directly opposite Alcatraz Island. Pier 39 has many shops, restaurants and cafes, attractions and entertainment centers.