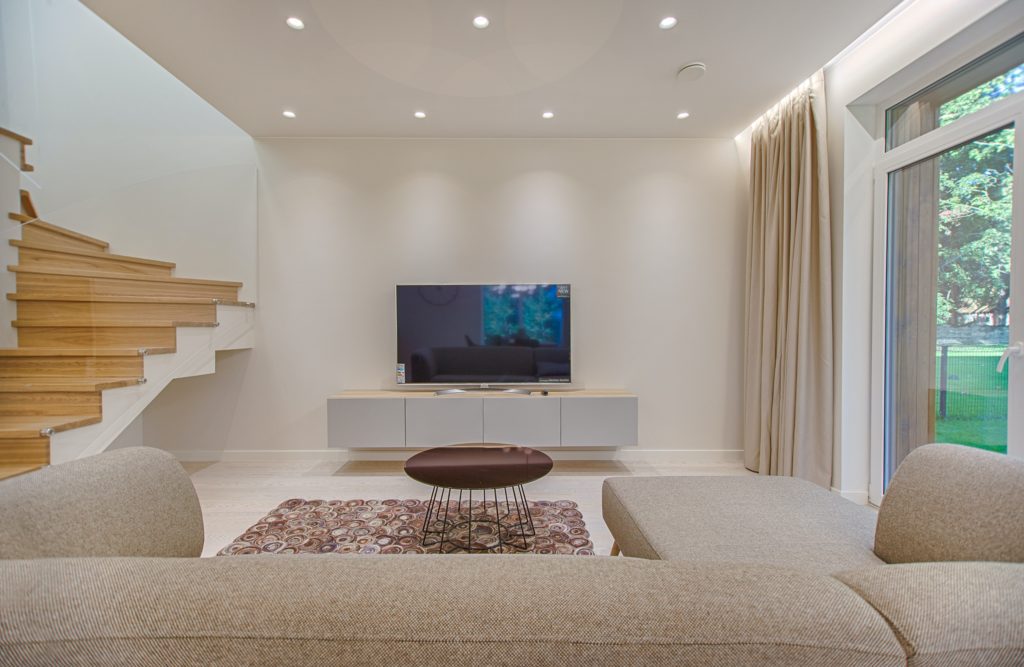 Have you decided to independently design a smart home in an apartment or cottage? There are some very general rules to consider before getting started.
Like any other project, it is better to plan the installation of a smart home system in advance. Take some time to immediately identify with the general concept of a smart home and think over some of the nuances. Then you do not have to bear the costs of unnecessary devices, hastily buy additional equipment, rebuild the network and transfer already installed components from place to place. In this article, we will explain why it is important to plan a home automation system and how to do it.
Decide what you want from a smart home
Before starting your own smart home project, you need to make several important decisions that will determine all your further actions. First, answer the question whether you want to install a wired or wireless system. Recently, wired systems are commonly installed in offices, hotels, clinics, etc.
It is much more convenient to install a wireless system in a city apartment or a country cottage. It can be installed for a turnkey renovation without dusty cabling, so the total installation cost and time spent on it will be less than in the case of wired systems. We recommend staying at the wireless smart home option.
Second, you need to decide on your home automation network protocol. Today, the choice of wireless technologies is wide: Z-Wave, ZigBee, Wi-Fi, Bluetooth Low Energy Thread, etc. You need to choose a smart home protocol carefully: in the future, it will determine which compatible devices you should buy for your project. Evaluate the technology in terms of its mass character, mutual compatibility of devices from different manufacturers, functionality, prospects for technical development and security. We have prepared a long article detailing the pros and cons of each of these technologies.
The choice of a smart home protocol will determine which devices that support this protocol you need to buy:
Smart home controller (hub). It is the control center for all devices, home automation scenarios, as well as remote access to the smart home from a computer and / or smartphone.
Sensors (sensors). Sensors are components of a wireless network that send data to a controller or other smart home devices. Based on this data, the smart home performs certain actions.
Actuators (executive devices). If the controller is the "brain" of the smart home, and the sensors are the "senses", then the actuators are its "hands". Actuators perform certain actions (turn on and off lighting, electric drives, etc.) at the command that the controller gives, based on the data sent by the sensors.
Start designing a smart home system
To do this, answer a few questions:
1. Who will use the smart home?
First, decide who will use the smart home. Do you live alone? If not, are there older people living in your apartment? Do you often have guests? Imagine that other people will have to use your smart devices frequently. Where is the best place to place smart gadgets so that they do not cause discomfort to others? For example, someone might be annoyed by the automatic turning on and off of smart lamps. Then, perhaps, instead of motion sensors in some rooms, it is better to install smart push buttons. Remember that not all people, even young people, are tech-savvy. Some people are comfortable using household and lighting fixtures only the old fashioned way.
Talk to potential users about how you plan to implement home automation and what benefits it brings. Try to make the smart home comfortable for everyone.
2. What are you planning to manage?
Always prioritize what I want to do, not how I want to do it. What goals do you want to achieve with home automation? Receive notifications that someone is in the house while you are away? Save energy? Seeing alarms for smoke and other hazardous situations? Achieve any other goals?
Think about what routine activities you have to do every day, and if you want to automate them. In other words, first identify the problem, and only then choose a technical solution for it, and not vice versa. Technology for technology's sake is not the best approach. It is better to imagine in advance what a smart home can and cannot do. Here are some of the most common use cases for it:
Automatic and remote control of motorized blinds, blinds and windows.
Energy monitoring and management.
Automatic control of electric water heaters (boilers).
Lighting automation.
Management of electrical heating and ventilation systems.
Automation of lawn and garden watering.
Control of water temperature, pumps and motorized pool covers.
Remote control of household electrical appliances.
Home access control (smart locks control, burglar alarms, opening / closing garage and entrance gates).
Situational information: smart notifications from vibration sensors, opening doors and windows, movement (or lack thereof), gas leakage, smoke, water leakage, liquid level, etc.).
The capabilities of a smart home are by no means limited to these scenarios. But it is better to approach the choice of one or another option for using a smart home from the point of view of reasonable sufficiency and comfort for all users in your home.