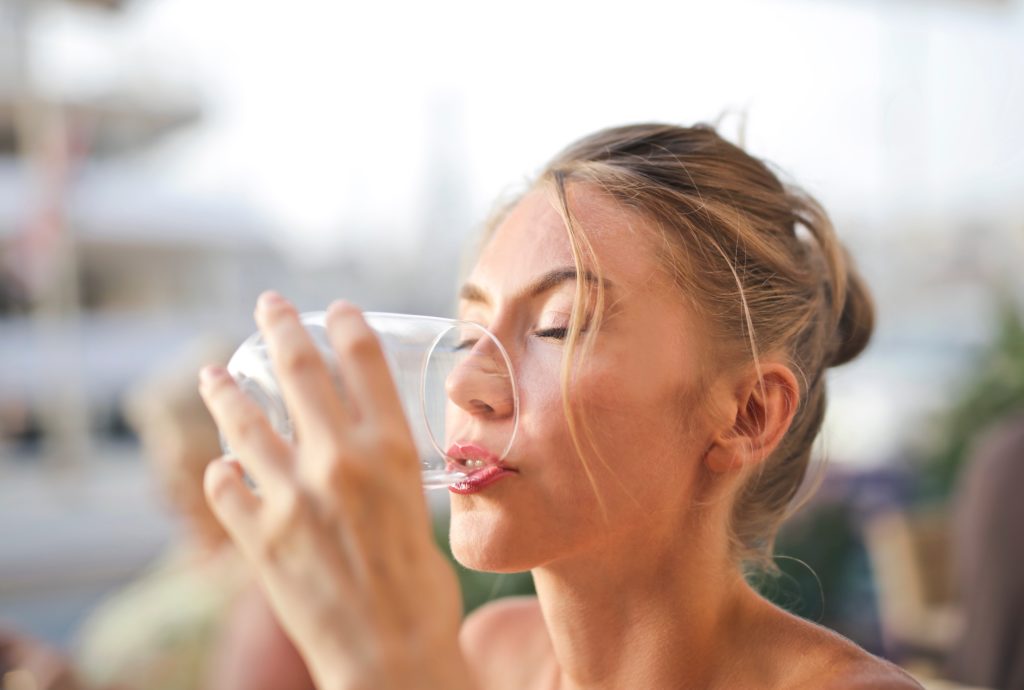 There is nothing healthier to drink than pure water. We all know the norm for maintaining a healthy water balance in the body – at least 1.5 liters per day. But even if all the rules of the drinking regime are observed, an unsuitable container – a plastic bottle – can spoil everything. This convenient and affordable item harms not only the environment, but also the body. And that's why:
1. Plastic contaminates water with hazardous chemicals
Drinking from a plastic bottle in hot weather is a bad idea. Under the influence of heat and ultraviolet radiation (for example, in a car heated by the sun, on a warm floor in a yoga room, in a dishwasher or microwave), the outer layers of plastic are destroyed. Plastics designated by the manufacturer with codes 3 and 7 may release the chemicals bisphenol A and Bisphenol S. Both components pollute the water you drink from the bottle and can negatively affect your health. Dr. Cheryl Watson, a biochemist at the University of Texas at Galveston Medical Branch, has done extensive research on bisphenol A and bisphenol S. "When you take even small amounts of these substances, your body mistakes them for the hormone estrogen," says Dr. Watson. They can alter the way your endocrine system works and worsen chronic conditions like diabetes, asthma or cancer. Animal studies have shown that bisphenol negatively affects the development of the brain and immune system – these changes can also be inherited by future generations. "
2. Chemicals from plastic can lead to infertility
The researchers found that couples who underwent in vitro fertilization (IVF) but had high levels of bisphenol A in their blood, urine, and work environment were less likely to get pregnant successfully. These findings were drawn from 91 studies and published in the journal Reproductive Toxilogy. Bisphenol made from plastic has the ability to mimic estrogen. Its excess on certain days of the female cycle interferes with fertilization of the egg and implantation of the ovum in the uterus, says Shila Satyanarayana, M.D., assistant professor in the Department of Environmental Protection and Occupational Hygiene at the University of Washington.
3. Water from a plastic bottle is dangerous for the heart
Every year, scientists receive more and more evidence of the harm of plastic bottles to the body. In 2012, the journal Circular published research results that linked bisphenol A to high blood pressure and the risk of heart disease. In 2015, another small but detailed study on this topic appeared in the journal Hipertension. In adults drinking water from bottles containing BPA, blood pressure rises almost immediately. Again, it's all to blame – BPA's mimicking the hormone estrogen. Its high level increases the production of plasma protein. According to Dr. Satyanarayana, this leads to increased blood clotting, which can cause stroke and heart problems.
4. Bacteria multiply in microcracks in plastic
Unlike glass and aluminum bottles, plastic bottles are damaged during use. Bacteria begin to multiply in small cracks. Therefore, the plastic bottle should always be disposable, warns the journal Practical Gastroenterology. "While most of these bacteria are harmless, there is always the potential for pathogenic microbes to multiply," says Dr. Charles Garby, a microbiologist at the University of Arizona. To exclude the possibility of contracting bacteria from the bottle, it must be washed from the inside with hot water and soap, which, again, leads to the destruction of the plastic.
5. Plastic bottles are merciless to the environment
Of course, the discarded plastic is recycled. However, this does not solve the problem of environmental pollution. First, not all countries have an established system for recycling plastic containers. Second, less than 1% of plastic is recycled more than once. The end result is a huge amount of plastic ending up in landfills, according to a 2017 Science Advance study. If this trend continues, the study's authors estimate that there will be more than 26 million pounds of plastic waste in the environment in 2050. Scientists urge you to be prudent and give preference to reusable drinking containers.