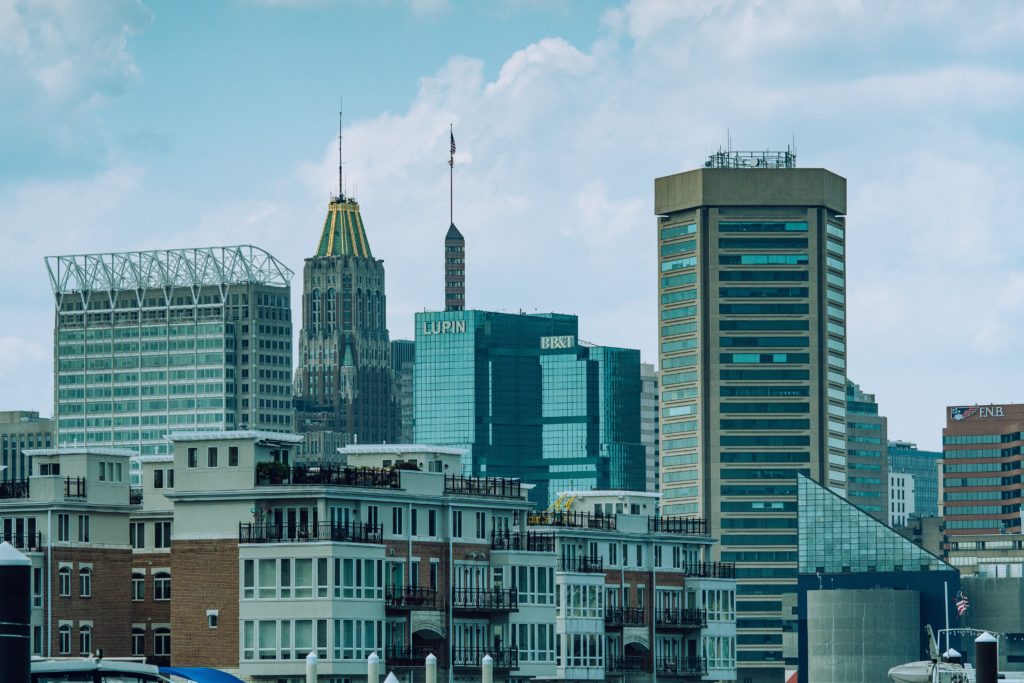 Baltimore is one of the most popular tourist destinations in Maryland. It was founded in 1729 and for a long time was the main port city of the United States, now it is one of the largest political and industrial cities in the United States.
One of the most attractive areas for walking in the city is the Italian Quarter, located near the Inner Harbor. This is real Italy in miniature, shops of famous Italian brands are represented here, as well as a huge selection of restaurants and cafes where you can taste the most popular Italian dishes.
For those who love exciting evening walks, it will be interesting to walk through the Falls Point area. It attracts vacationers with a variety of art galleries, which often host interesting cultural events. Here you can visit photo and art exhibitions of famous young artists and photographers, and in some galleries you can even buy your favorite works. In addition to galleries, there are several dozen popular cafes and bars, so there will be no shortage of places for evening relaxation.
Tourists who are planning to visit Baltimore with children should definitely check out the Maryland Science Center. A tour of it promises to be informative for all family members. This center has an incredibly interesting Dinosaur Museum, as well as a planetarium. Here they conduct excursions for children of different ages, during which they can learn how our planet looked like millions of years ago, and what creatures inhabited it.
Fort McHenry is one of the main historical symbols of Baltimore. It was built to protect the city in 1798. Many amazing historical events and facts are associated with this fort; in 1814, it was thanks to its inaccessibility that Baltimore managed to resist the onslaught of the British.
Many beautiful historic buildings can be seen while walking through the Fells Point area. Looking at it today, it is difficult to imagine that earlier this quarter was considered one of the most dysfunctional and restless in the city. There were numerous entertainment establishments, the main visitors of which were sailors. Today, you can see here carefully restored historical buildings, within the walls of which prestigious shops and restaurants are hidden.
Many tourists come to the area specifically to take pictures against the backdrop of spectacular red-brick buildings. Baltimore can be safely called a universal city for recreation; it will appeal to fans of a wide variety of entertainment.
On the streets of the harbor there is a huge number of all kinds of museums, souvenir shops and entertainment centers. The famous Maryland Science Center is also located here. Vacationers with children should definitely visit the Port Discovery Children Museum; an ordinary walk along the harbor piers will also turn into an exciting excursion. A wide variety of ships and sailboats are moored at the harbor, as well as a submarine from the Second World War.
As in any city in the United States, in Baltimore, locals are not indifferent to baseball. The most famous stadium in the city – Oriole Park – is also located in the central area. Football fans will love the M&MT Bank Stadium. The most famous religious landmark in the city is the Baltimore Basilica. The beautiful old building amazes tourists with its graceful forms and incomparable interior design. Among other notable objects of the central district of Baltimore, it is worth highlighting the Washington Monument and the Power Plant Live entertainment center – a huge building of unusual shape is a real city landmark and a true example of modern architecture.
Near the harbor is the Little Italy quarter, which is one of the coziest and most picturesque areas of the city. With an abundance of Italian restaurants, interesting shops and spacious parks, the Italian area is perfect for those who love walking. To the east of downtown is the Fells Point area, which, in addition to its many restaurants and bars, is famous for its art galleries. Visitors to cultural institutions can appreciate the work of contemporary masters and purchase a painting or sculpture they like.