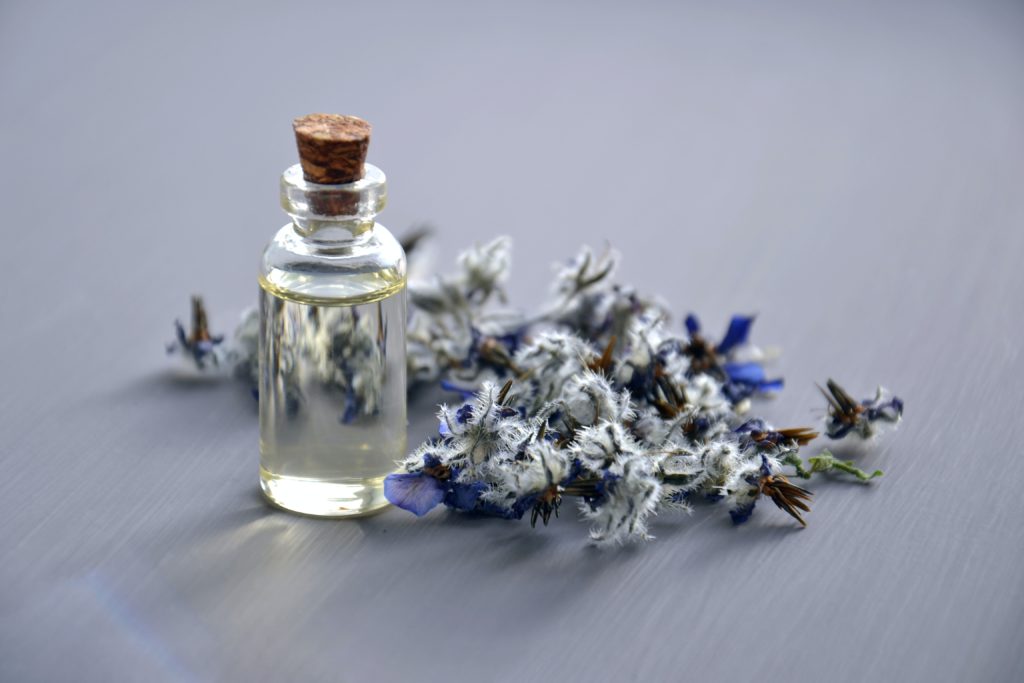 Stress, poor nutrition, lack of professional care have significantly affected the condition of our hair. Dryness, loss or fragility is a sign that the curls need to be saved. As? Read in our article.
From time immemorial, lavender is famous for its healing properties. It has proven to be an antiseptic, antimicrobial and sedative. In addition to the fact that lavender has a positive effect on the nervous system, calming it, it also has a beneficial effect on the condition of the hair.
General facts about lavender oil
The oil affects hair growth factor, has antiseptic and antimicrobial action. Its main benefits: relieves anxiety, improves the overall condition of the scalp and can stimulate hair growth.
Who should use it: in general, lavender oil can be useful for all hair types and textures. Those who have thin hair or unhealthy scalp will get the most from its healing properties. Like other oils, people with thin hair or oily scalp should use it sparingly and with caution.
How often to use: if properly diluted, lavender oil can be safely used daily.
Works well with: essential oils such as argan, grape seed, jojoba, coconut or almond.
Do not use with: there are no known ingredients that would adversely affect lavender oil, but it can be an allergen, so watch for irritation or sensitivity and always test before use.
The main benefits of lavender oil in hair restoration
We have already described above that lavender is a source of beneficial properties for the body. The oil of this plant is able to heal wounds and promote rapid skin regeneration. How can you use lavender oil to restore hair after prolonged stress.
Relieves anxiety and stress: according to Orit Markovic, a certified dermatologist, the use of lavender oil to relieve anxiety and stress can be traced back to Roman and Egyptian times. Lavender oil treatment has been found to relieve symptoms such as anxiety and sleep disturbances. These factors negatively affect hair growth in general. Therefore, reducing anxiety, improving sleep and well-being will help restore the condition of the hair.
May prevent dandruff: Dandruff is usually caused by yeast that infects the scalp. The antimicrobial properties of lavender oil help in the process of wound healing. Depending on the specific cause of dandruff, lavender oil can help prevent this unpleasant peeling.
Reduces inflammation: stress and anxiety cause great harm to the body. Biochemical links have been found to link immune activation, inflammation and mood disorders such as anxiety, restlessness, insomnia and depression. In the treatment of these diseases, lavender oil can reduce inflammation in the body, especially on the scalp.
May stimulate hair growth: Lavender oil has been found to promote new hair growth at a rate similar to the active ingredient in minoxidil. It improves the overall condition of the scalp, giving the scalp both anti-inflammatory and antimicrobial properties. Healthy scalp is essential for the growth of new hair, so it can also promote its growth.
How to use lavender oil?
Lavender oil can be used to improve the scalp and hair locally, by inhalation through a diffuser, depending on how you expect to benefit from its healing properties. Aromatherapy or inhalations of lavender oil are usually recommended for those who want to overcome anxiety and stress, which can have a direct big on the hair and scalp. Oral intake of oils such as lavender oil should never be done without consulting a doctor. And those who are allergic to lavender flowers should not use lavender oil because of the possibility of irritation.
Add a few drops of lavender oil to your shampoo: to avoid irritation, lavender oil can be added to your favorite shampoo. Add two or three drops of lavender oil on the palm and mix with the usual amount of shampoo. Leave on for five minutes, then rinse thoroughly.
Create a scalp massage oil: It is recommended to mix two or three drops of lavender oil with 30 g of your favorite base oil, such as argan oil, grape seed, jojoba, coconut or almond oil to prevent irritation. Scalp massage also increases blood flow, which can promote hair growth.