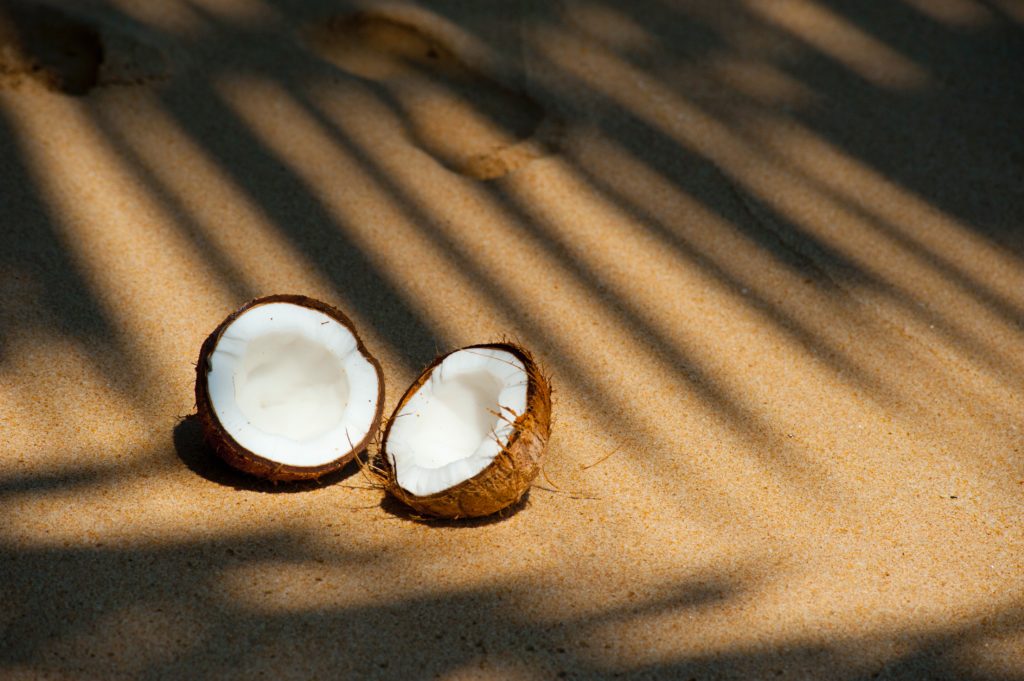 The controversy over coconut oil continues. Those who are accustomed to cooking food on it – to fry cheese pancakes, for example – cannot believe that their idol has been overthrown from the pedestal. And they stubbornly continue to use it in cooking. Unfortunately, once hailed as a superfood, this product is now equated to poison in terms of the degree of harm to the body. What went wrong with coconut oil and where is it really true?
Pure poison. This is how Harvard professor Dr. Karin Michels identified coconut oil in her lecture with the rather bright name Coconut Oil and Other Nutritional Errors, which made headlines and received millions of views on YouTube. Yes, coconut oil – the "superfood" heralded as the Holy Grail of health, beauty and well-being, has fallen from heaven to earth, losing consumer acceptance.
The use of coconut oil for its beneficial ingredients and the debate around its superfood status is nothing new. Talk of its miraculous properties in the wellness community began a few years before the full-blown coconut oil boom in 2015. Books from the period, published by food bloggers Deliciously Ella, Amelia Freer and Madeleine Shaw, described the benefits of coconut oil, and US sales grew 38.8%, according to research firm Spins. Recipes promoting its use in everything from spaghetti carbonara to fried chicken have won hearts, and the fashion for adding coconut oil to coffee was inspired by the myth that it boosts metabolism and strengthens the immune system. It's that simple! Michels' toxic comments are based on the fact that coconut oil is high in saturated fat, which is known to increase cholesterol levels and therefore the risk of heart disease. The myth that a spoonful of coconut oil a day will delay doctor visits seems to have been debunked. "Because coconut oil raises bad cholesterol, which causes heart disease, and has no proven beneficial effects, we advise against using coconut oil," the American Heart Association said last year. The British Nutrition Foundation in 2016 agreed with this in its report. "If you like the taste of coconut oil, then include it in your diet, but not in large quantities and not often," it says. "Coconut oil is rich in saturated fat. British and major international health organizations have concluded that there is a link between saturated fat intake, increased blood cholesterol levels and an increased risk of heart disease. This has led health organizations around the world to advise cutting back on saturated fat and replacing it with small amounts of unsaturated fat. "
Chefs around the world breathed a sigh of relief. In 2017, when we talked about the healthy eating movement, chef and TV host Jizi Erskine voiced that foodies are reluctant to follow the coconut oil trend. "The biggest complaint I have about coconut oil is that people poke it everywhere, they have been told that it is healthier than the rest," she says. "If I cook an Italian dish, I use olive oil. Coconut oil in bolognese? Oh no. Everything will taste like coconut. " Although the status of coconut oil as a superfood has fallen – it has been questioned by almost every health organization on the planet – it still seems to have an impact on us. This is why Michels' comments went viral: when someone claims directly in the face that a healthy favorite product is not really beneficial, and in addition can be harmful, then this is much more impressive than another official report.
Understandably, the obsession with coconut oil has spread far beyond our kitchens. As with other dubious wellness trends, it makes sense to turn to goop, founded by Gwyneth Paltrow. It extols the benefits of coconut oil in everything from body moisturizer and makeup remover to intimate lubricant. Goop also sells a "cold-pressed alkaline coconut oil" mouthwash kit. This technique, designed to whiten teeth and clean the mouth, has had a boom not too long ago, and Paltrow herself mentioned that coconut rinses are an integral part of her personal beauty regimen. Goop is not alone in extolling coconut oil as an ingenious beauty product: an incredible number of columns have been dedicated to the oil.
As a makeup remover, coconut oil does a really good job – and so do all oils. But personally, I would rather use a special oil based product. Especially in the case of eye make-up remover, I would definitely stop at a two-phase product. But I, of course, understand the supporters of coconut oil: it is cheap, it works quickly, it smells like Bounty chocolate. I would definitely not choose it as a humidifier. Perhaps for those with tiny pores, it will work (I have a few friends who adore it).
But everyone who is prone to acne should forget about it once and for all. It is comedogenic, and as soon as it gets into the pores, how to get it out of there will be another task. There are many oils that work better with skin care. As for using it as a body oil, I'm sure a good cream will do more good. And its price will be commensurate with the price of cold pressed coconut oil marked 'virgin, organic, raw'. As for using it as a lubricant … Just forget it.